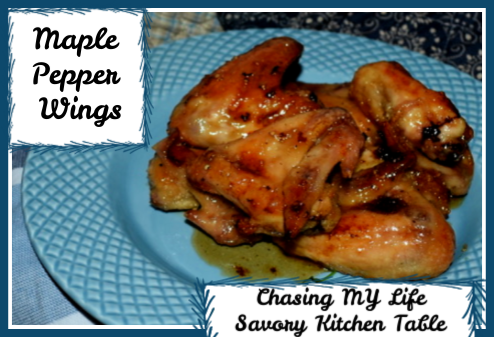 MAPLE PEPPER WINGS
3-4 pounds chicken wings
1/3 cup all purpose flour
2 teaspoons baking powder
1 teaspoon FRESH ground black pepper
1/2 teaspoon garlic powder
1/2 teaspoon FRESH ground sea salt
Preheat oven to 425°.
Line baking pan with foil and lightly spray with non-stick oil.
Toss flour, baking powder, pepper, salt and garlic powder in a large Ziploc bag.
Place chicken pieces in the bag, tossing to coat.
Shake off excess and place on baking pan in a single layer.
Bake 20 minutes.
Dip each wing in the sauce and return to pan on its opposite side.
Bake another 25 minutes until cooked through.
Dip in sauce a second time as you plate them.
GLAZE
2/3 cup
PURE
maple syrup
2 teaspoons
FRESH
ground black pepper
2 teaspoons Bragg's liquid aminos
2 cloves garlic, minced
1 green onion, minced (optional) for garnish
Combine all ingredients in a small saucepan.
Bring to a boil over a medium heat,
Reduce heat and simmer, stirring frequently, 5-7 minutes until thickened.
Garnish if desired and serve.