This recipe was originally written to serve 6 over at
ALLRECIPES.com
. It uses dried herbs and a can of diced tomatoes. Unfortunately, diced canned tomatoes don't come in small enough sizes for 2 so I adapted the recipe to make my own using cherry tomatoes
AND
use
FRESH(er)
herbs. I also don't particularly care for olive oil so I substitute avocado oil and instead of onion I substitute shallot for a little extra flavor.
BRAISED BALSAMIC CHICKEN
2 boneless, skinless chicken breasts
FRESH
ground black pepper
garlic salt, to taste
1 tablespoon avocado oil
1 large shallot, sliced
1 ¼ cup quartered cherry tomatoes
¼ cup
QUALITY
balsamic vinegar
2 tablespoons
Gourmet Garden
"squeeze" Italian herbs
1 tablespoon
Gourmet Garden
"squeeze" Basil
In a small bowl whisk together the balsamic vinegar, basil and Italian herbs.
Fold in tomatoes, cover and refrigerate until dinner.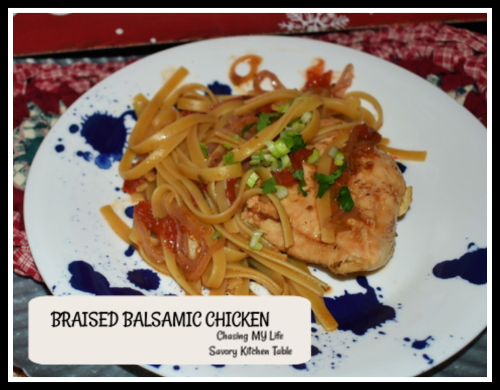 Generously season chicken breasts with FRESH ground pepper and garlic salt.
Heat oil in skillet over medium heat.
Add shallot, cooking until browned. Transfer to a bowl.
Add chicken to skillet and sear each side, about 3 minutes per side.
Top chicken with shallots and tomato mixture.
Bring to a QUICK boil, reduce heat and simmer, covered, 5 minutes or until chicken is cooked through. Turn chicken to coat well in glaze.
Serve over pasta or mashed potatoes.
Garnish with FRESH herbs.