This recipe was originally posted in January of 2010. BUT, it needed a MAJOR picture overhaul!! I've also made a few updates over the years to make the recipe more "scratch made".

When I was a kid and just starting to do the majority of the family cooking we had a set group of recipes that were the "weeknight" recipes. One of those recipes that was especially popular during the holidays was Turkey Tetrazzini. We also substituted ham and chicken for the turkey throughout the rest of the year.
Back then I prepared the recipes exactly as they were written and they were okay, but the Tetrazzini recipe used ALL Velveeta and canned mushrooms and stuff I wouldn't think of putting into my body now so it was my goal to create the same recipe in a more health oriented way, but still easy for a weeknight meal.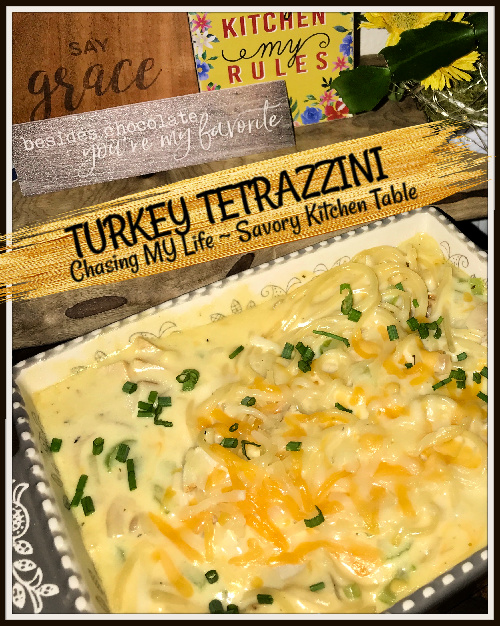 TURKEY TETRAZZINI
2 tablespoons butter
1 LARGE bunch green onions OR 1 LARGE shallot, chopped
1 stalk celery, chopped small
8 ounces spaghetti or linguine, broken in half and cooked al dente
FRESH ground sea salt and pepper to taste
2 cups shredded turkey pieces**
1 can cream of celery soup (see soup substitutes)
1 cup WHOLE milk
1 cup grated mild cheddar cheese
1 cup grated Monterey Jack cheese
Preheat oven to 350°.

Melt butter in a skillet.

Saute onions and celery just until tender.

Add soup and milk, stirring to blend. Cook just until thick.

Add cheddar cheese.

Add salt and pepper.

In the bottom of an 11×7 baking dish scatter first the pasta and then the meat pieces.

Pour soup mixture over top.

Top with Monterey Jack cheese.

Bake 25-30 minutes.
NOTE: ** ham and rotisserie chicken work well too
Casseroles tend to call for a can of some form of "cream of" soup. Since those soups tend to be full additives and preservatives I came up with some quick and easy substitutes that are homemade as you needed.
CREAM SOUP SUBSTITUTES
Do you hate buying canned soups for use in recipes? Do you want something healthier and less costly? These recipes make perfect substitutes for 1 can of soup.
3 tablespoons butter
3 tablespoons flour
1/4 teaspoon salt
1 cup milk or other liquid (as specified in variations)
Melt the butter in heavy saucepan.

Blend in flour and salt. Cook until bubbly.

Remove from heat and gradually stir or whisk in liquid.

Return to heat and cook, constantly stirring until smooth and thickened.
VARIATIONS
Cream of chicken: Use 1/2 cup milk and 1/2 cup chicken broth as the liquid. Add 1/4 teaspoon poultry seasoning or sage.
Cream of celery: Saute´ 1/2 cup chopped celery and 1 tablespoon finely chopped onion in the margarine before adding flour. Use milk for liquid.
Cream of mushroom: Saute´1/4 cup finely chopped mushrooms and 1 tablespoon finely chopped onion in margarine before adding flour. Use milk for liquid.
Tomato: Use tomato juice as liquid. Add a dash each of garlic salt, onion salt, basil, and oregano.
Cheddar cheese: Use milk for liquid. Stir into the finished sauce 1/2 cup shredded sharp cheddar cheese and 1/4 teaspoon dry mustard.
Cream of shrimp: Drain the liquid from a small can of tiny shrimp into a measuring cup. Fill cup with milk to measure 1 cup of liquid. Add a dash of pepper, onion salt, curry powder, and paprika to the finished sauce, and stir in the shrimp.