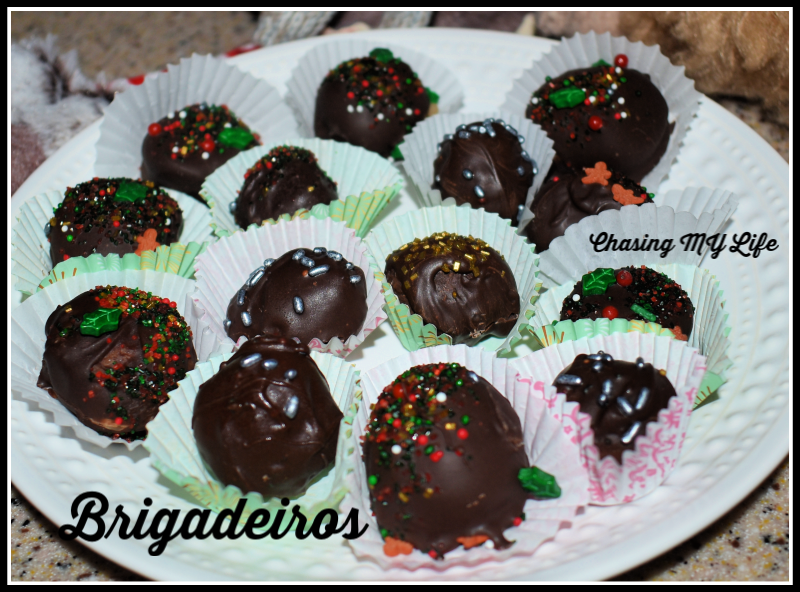 I found this recipe over at Rebecca's blog and was intrigued so I did a little history.
The Brigadeiro is a traditional Brazilian dessert created in the 1940's. It is made of condensed milk, butter and cocoa powder and then rolled in chocolate sprinkles. While it is uncertain of when and where the recipe was actually created, there is some history that the name originated in 1945 after WWII. Eduardo Gomes, whose military ran was Brigadier. He was campaigning for president in Brazil and his slogan was "Vote for the Brigadier who is handsome and single!"
This slogan gave him enormous success especially among women. Many of his most devoted voters decided to try and promote his campaign by organizing fundraiser parties to give him more visibility. Instead of traditional merchandising it was decided to sell candy. But, there was a significant problem everywhere – a lack of fresh milk and sugar in this post war era. It was decided to use condensed milk and mix it with butter and chocolate.
This new creation, specifically these candies were come to be known as "The candy of the Brigadeiro" in his honor. While the candy was a success, the candidate was not. The name was then shortened to BRIGADEIROS in the 1950's.
BRIGADEIROS
1 can Nestle's La Lechera sweetened condensed milk
2 tablespoons butter
4 tablespoons cocoa
Candy Quick, optional
Sprinkles
Put all ingredients in a pan and cook over medium-low heat, stirring constantly until you can see the bottom of the pan between swipes across middle (about 15 to 20 minutes); continue to cook until almost solid (about another 5 minutes).
Pour mixture into buttered plates to cool.
Using buttered hands, pull away pieces of the candy and roll into balls.
Roll each ball in candy sprinkles of choice to complete.
NOTES:
I also coated each one in candy quick to give it a hard shell before decorating.
Rebecca's recipe stated that Nestle's La Lechera sweetened condensed milk was the brand to use for best results, but out of curiosity I tried the La Lechera AND Eagle brand with very little difference in

FLAVOR ONLY

. Texture wise, Nestle's La Lechera was

DEFINITELY

the best though!
You can also use Nesquik chocolate or strawberry flavored drink mixes, peanut butter powder or espresso powder for different flavors… There really appears to be lots of ways to flavor and decorate Brigadeiros! For one version I added a couple drops of peppermint extract. Our favorite version trades 1 1/2 tablespoons of the cocoa powder for peanut butter powder.