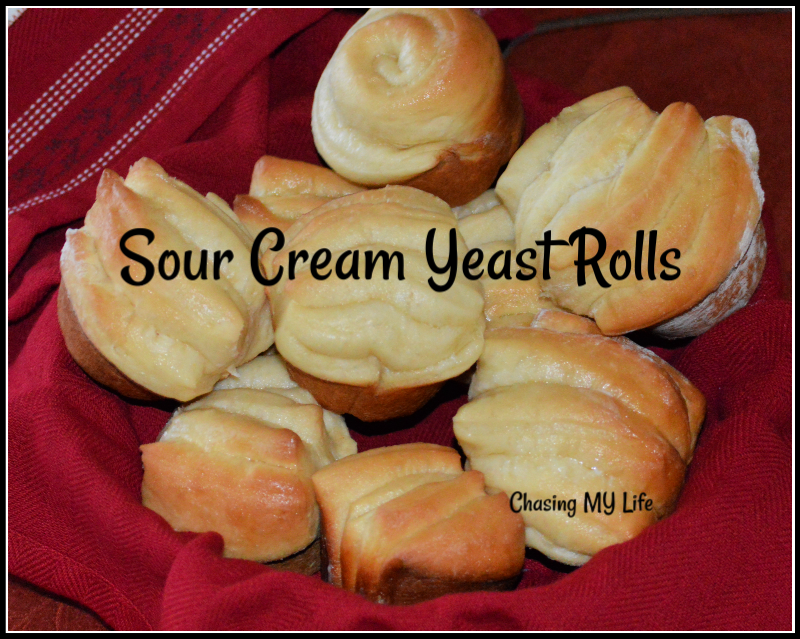 SOUR CREAM FAN ROLLS yields 15 rolls
3-4 cups all purpose flour
1/4 cup fine sugar
1 tablespoon active dry yeast
3/4 teaspoon sea salt
1/8 teaspoon baking powder
1 cup sour cream
1/2 cup water
3 tablespoons butter, cubed
1 LARGE egg, lightly beaten
In a large bowl combine 1 1/2 cups flour, sugar, yeast, salt and baking powder. Set aside.
In a small saucepan heat sour cream, water and butter to 125°.
Add to dry ingredients and beat on medium speed 2 minutes.
Add eggs and 1/4 cup flour. Beat 2 more minutes.
Stir in enough remaining flour until a soft dough forms.
Turn out onto a lightly floured surface.
Knead until smooth and elastic, about 5 minutes.
Place in a greased bowl, turning to coat the dough. Cover with a cheesecloth and let rise in a warm place until double in size, about 1 hour.
Punch down dough and turn out onto a lightly floured surface. Divide in half.
Roll each portion in a rectangle about 9×23.
Cut the dough into 1 1/2 inch pieces.
Stack 5 strips together.
Cut into 1 1/2 inch pieces and place cut sides up in greased muffin cups.
Repeat until all dough is used.
Cover with cheesecloth and place in warm area to let rise again until doubled, about 20 minutes.
Bake at 350° for 20-25 minutes or until golden.
Cool on wire racks.