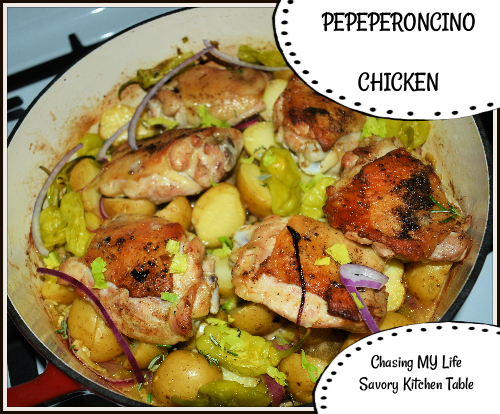 PEPERONCINO CHICKEN
6-8 skin on chicken thighs
10-12 peperoncinos
1/2 cup peperoncino brine
2 + 2 tablespoon QUALITY avocado oil
FRESH ground sea salt and black pepper, to taste
3 stalks celery, sliced thin
1/2 red onion cut root to tip, sliced thin
4-6 cloves garlic
1 pound baby potatoes, halved
2 tablespoons FRESH chopped thyme leaves**
2 tablespoons FRESH chopped parsley**
Preheat oven to 425°.

Coat a large cast iron skillet (I like my enamel covered cast iron) with 2 tablespoons of QUALITY avocado oil and heat over medium heat.

Generously season chicken with FRESH ground sea salt and black pepper.

Place chicken skin side down. Cook undisturbed 10 minutes or until chicken skin is browned.

While chicken is browning toss the potatoes, peperoncinos, remaining oil, peperoncino brine, garlic, half the red onions, half of the celery, a generous turn of ground sea salt and black pepper.

When chicken is browned, turn the pieces over onto a plate.

Add potato mix to pan and stir to combine well.

Nestle chicken thighs skin side up into the potato mix.

Transfer pan to oven and roast 45-50 minutes until chicken is cooked through and potatoes are tender.
**NOTES:
I like to use herb mixes that my local store carried to make my dollar go farther.
After plating the chicken and potatoes you can also make a gravy out of the juices if you'd like.