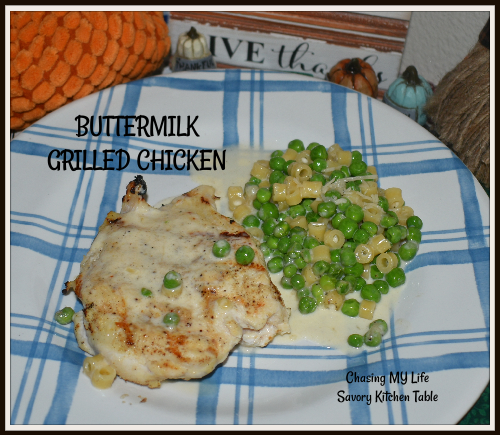 "BUTTERMILK" APPLE CIDER GRILLED CHICKEN
4-6 chicken breasts
2 tablespoons avocado oil
2 cups WHOLE milk
4 tablespoons apple cider vinegar
2 teaspoons garlic powder
2 teaspoons onion powder
FRESH ground sea salt and black pepper
Place chicken breasts in a LARGE ziploc bag.

Whisk together the milk and apple cider vinegar.

Pour milk mixture over the chicken and seal tight. Marinate over night or at least 8 hours. Turn every few hours if you can.

Remove the chicken from the refrigerator 1 hour before grilling.

Preheat grill and spray with non-stick spray.

Grill chicken 3-4 minutes per side.
NOTE: Grill time will vary based on whether you use bone in or boneless chicken breasts as well as how thick they are. Adjust accordingly.