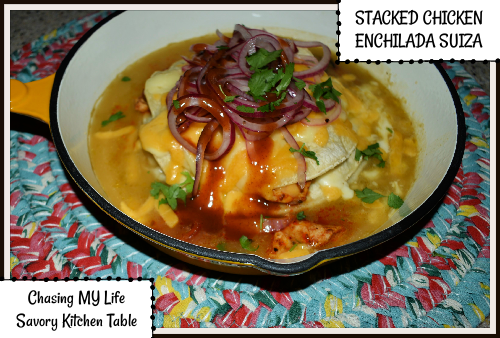 I absolutely LOVE trying new recipes. Suiza is just the Spanish word for Swiss. I generally cook something BRAND NEW 85% of the time! So combining out of the norm flavors helps keep everything interesting and leads to some wonderful new combinations. Like Molly I combine flavors based on my likes, NOT based on their cultural origins. We used to live near a Mexican restaurant that had the most amazing food, was family run, but had THE grumpiest servers (all part of the family). EVERY time they hired a new hostess/cashier we'd all take bets on how long she'd last because they were ALWAYS cute and perky! Anyway, they had THE best Suiza chicken enchiladas and that is what this recipe reminds me of. The mozzarella is a much creamier cheese than the standard jack or cheddar normally used in this style recipe. The pickled red onion cut the richness of the ultra creamy cheese and give it a tangy finish.
Adapted from Molly Krueger at Marley Spoon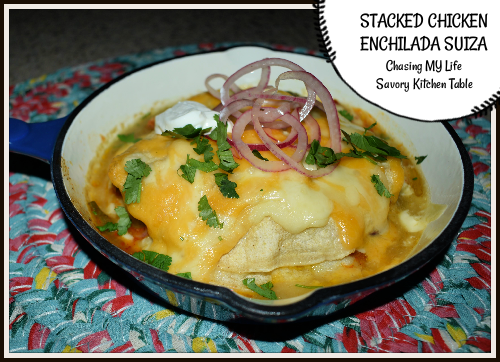 STACKED SUIZA CHICKEN ENCHILADAS with PICKLED RED ONIONS serves 2
FRESH ground sea salt & ground pepper
pinch sugar
avocado oil
6 (6-inch) corn tortillas
¼ ounce chorizo chili spice blend
3/4 pound boneless, skinless chicken breasts
1 tablespoon BETTER THAN BOUILLON chicken concentrate
1/2 cup chicken bone broth
2 tablespoons apple cider vinegar
8 ounces green enchilada sauce
1/2 cup chicken bone broth
2 tablespoons chopped FRESH cilantro,
1 poblano pepper, char roasted, stemmed, seeded and sliced thin
1 medium red onion, sliced thin
1 cup grated mozzarella
1/2 cup grated cheddar cheese
sour cream, for garnish
Preheat oven to 450° with a rack in the upper third.

Pick cilantro leaves from stems; finely chop the stems and reserve whole leaves. 

In small bowl, combine ¼ cup of the sliced onion with 1 tablespoon vinegar and a pinch of sugar and FRESH ground salt and pepper. Set aside, but stir occasionally, until needed.

In a measuring cup, stir to combine the enchilada sauce, broth concentrate, and chicken broth.

Set sauce aside.


Pat chicken dry.

Heat 1 tablespoon oil in a medium ovenproof skillet over medium-high heat.

Generously season chicken with sea salt and ground pepper.

Add chicken and cook until chicken is seared and cooked through, about 5 minutes.

Transfer chicken to a cutting board.

Shred chicken with 2 forks.

Heat 1 tablespoon oil in same skillet over medium-high.

Add poblano pepper slices, remaining sliced onions, and a pinch each of FRESH ground sea salt and pepper. Cook, stirring, until veggies are softened and browned in spots, 3–5 minutes.

Stir in all of the chorizo chili spice blend and cilantro stems; cook until fragrant, about 1 minute.

Transfer veggies to bowl with chicken; stir to combine.



Off the heat, pour ¼ cup sauce into same skillet.

Layer 2 tortillas on top, overlapping as necessary.

Top with ¼ cup sauce, half of the filling, and ⅓ of the cheese.

Repeat with 2 more tortillas, ¼ cup sauce, remaining filling, and ⅓ of the cheese.

Top with remaining tortillas, sauce, and cheese.


Lightly oil foil; cover skillet with oiled side.

Bake on upper oven rack until cheese is melted and tortillas are warmed through, about 10 minutes.

Uncover; switch oven to broil.

Broil until cheese is browned on top, 2–3 minutes, depending on your broiler.

Remove from oven; let rest for 5 minutes.

Top enchiladas with whole cilantro leaves, sour cream salsa and pickled onions as desired.
NOTE: If you cannot find chorizo chile spice, make your own!
CHORIZO CHILE SPICE BLEND
1 bay leaf
1/2 teaspoon dried oregano
1/2 teaspoon dried thyme
2 tablespoons Ancho Chile powder
2 teaspoons sweet paprika
1 teaspoon sea salt
1 teaspoon garlic powder
1 teaspoon onion powder
1 teaspoon ground cumin
1/2 teaspoon FRESH ground black pepper
1/4 teaspoon ground coriander
1/4 teaspoon ground cloves
1/8 teaspoon QUALITY ground cinnamon
Break up a bay leaf into small pieces.

Using a mortar and pestle grind it up a bit.

Next add in the oregano and thyme and grind until finely ground.

Measure and combine the remaining spices, along with the bay leaf, oregano and thyme in a container and stirring to combine.

Store in a jar or container with a tight-fitting lid and store in dry, dark place for up to 6 months or longer.