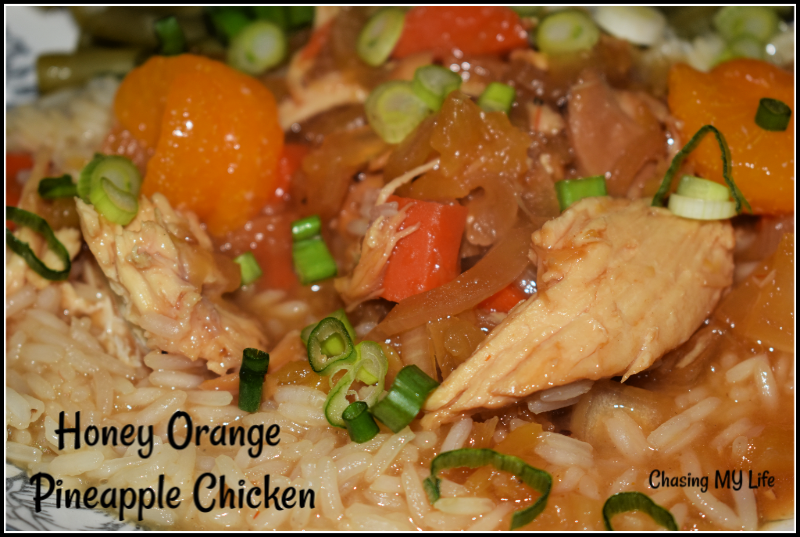 HONEY ORANGE PINEAPPLE CHICKEN ala SLOW COOKER serves 6-8

6 boneless, skinless chicken breasts
1/2 cup orange pineapple juice
Juice of 1 LARGE lemon
1/2 cup chicken broth
1/4 cup QUALITY honey
1/4 cup apricot pineapple preserves
1/4 cup packed brown sugar
1 tablespoon cornstarch
1/4 cup teriyaki sauce
1/4 cup Country Bob's All Purpose Sauce
1/4 cup Heinz Chili sauce
8 ounce can crushed pineapple
1 small can Mandarin orange segments, drained WELL
1 small onion, finely chopped
1 cup sliced carrots
Prepared rice
chopped green onions for garnish
In a mixing bowl whisk together orange pineapple juice, lemon juice, chicken broth, honey, preserves, brown sugar, cornstarch, teriyaki sauce, Chili sauce, Country Bob's sauce and crushed pineapple.
Spray slow cooker insert with non-stick cooking spray.
Place chicken breasts in slow cooker in as shallow a layer as possible.
Top with onion and carrot pieces.
Pour juice mixture over top.
Cover and cook on low for 4 hours.
Cover and cook 1 hour more.
Top with Mandarin orange segments, turn off heat, cover and let sit 5 minutes.
Serve over hot cooked rice. Top with fresh chopped green onions.