Our family has been making some version of this casserole, each their OWN way, and each called Overnight Breakfast Casserole, for as long as I can remember. Each and every one of those casseroles was excellent on their own merit, but the real plus is that it's a MAKE AHEAD (anywhere from 3 hours to overnight) casserole and take the stress off of the holiday morning. Just pop it in the oven while you're watching the kids open their stockings and gifts or if you have guests you don't have to spend time in the kitchen and away from your togetherness time. Be sure and take the casserole out of the refrigerator at least a half an hour before you put it in the oven so it can come to room temperature.
The other beauty of this recipe is that the innards are up to you - either what you prefer or what you have on hand. It is just a basic strata with eggs, bread chunks and add ins of a protein, veggies and cheese. It is also a GREAT way to use up stale bread. You can use whatever bread you prefer, but we love sourdough ourselves. Some people also prefer to cut the crust off, but we are definitely crust on people.
We also tend to always use the same add-ins where as my niece changes it up EVERY time she makes it, but they always have a protein, veggies and cheese(s). Seasonings are another area that can change this up, but we tend to stay pretty traditional with FRESH ground sea salt and black pepper. Occasionally I'll use tri-color pepper for a hint more heat.
My normal proteins are diced ham and crumbled bacon, but I have been known to use rotisserie chicken also. My traditional veggies are diced red peppers, sliced green onions and thinly sliced mushrooms. Sharp cheddar is our cheese of choice, but we also like shredded Gruyere and/or pepper Jack.
Oh and did I mention that it makes a wonderful leftover dish for a quick lunch over a holiday weekend.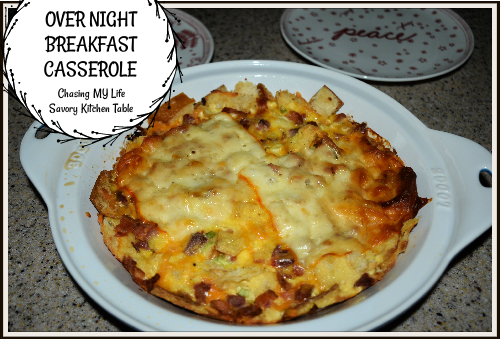 OVERNIGHT BREAKFAST CASSEROLE serves 10-12
PREP TIME: 20 minutes
BAKE TIME: 50-60 minutes
12 slices sandwich size bread, flavor of choice, cubed
3/4 cup diced ham steak
8 slices bacon, cooked and crumbled
3 green onions, THINLY sliced
1/2 red pepper, FINELY diced
4 cups grated cheese, flavor of choice
6 LARGE eggs
3 cups WHOLE milk
FRESH ground sea salt and black pepper
1/2 teaspoon Coleman's mustard (optional)
Preheat the oven to 300°.

Cube bread and place on a baking sheet.

Add baking sheet to oven for 15 minutes, just long enough to dry out the bread cubes, but not toast them.

Whisk together the eggs, milk and seasonings.

Spray 9x13 baking dish with non-stick spray.

Layer the bread cubes evenly into the bottom.

Even top the bread cubes with half of the proteins, veggies and cheese.

Layer again ending with cheese.

Pour the egg mixture over top.

Cover and refrigerate at least 3 hours, but preferably overnight.
NEXT MORNING:
Remove baking dish from refrigerator to bring to room temperature.

Preheat oven to 350°.

Remove plastic wrap and cover with foil.

Bake 50-60 minutes or until center is set when you test with a knife and it comes out clean. If you're using a deep baking dish or baking multiple pans, you will need to increase the baking time by another 15 minutes.

Return to oven for 5 minutes.

Serve immediately.