Oh my this is my new favorite soup! I could eat this EVERY day!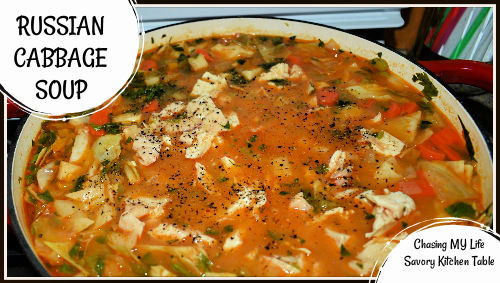 RUSSIAN CABBAGE SOUP adapted from The Sophisticated Cavemen serves 8
1/4 cup avocado oil
1 LARGE onion, diced
4 carrots, halved lengthwise and sliced
3 celery ribs, halved lengthwise and sliced
3 garlic cloves, minced
1 (6 ounce) can of tomato paste
1 SMALL head of cabbage, large chopped
1 pound turnips, diced
8 cups homemade chicken stock
1/2 teaspoon caraway seeds (optional)
FRESH ground sea salt and black pepper, to taste
1 bay leaf
1/4-1/2 cup apple cider vinegar, to taste
1 1/2 cups chopped rotisserie chicken pieces
2 tablespoons FRESH Tarragon, chopped
2 tablespoons FRESH Parsley, chopped
Heat the avocado oil in dutch oven over medium high heat.

Add the onions, carrots, and celery and saute 5-7 minutes until onions are translucent.

Add the garlic and cook 30 seconds or so until fragrant.

Stir in the tomato paste and cook 3-4 minutes until it starts to brown.

GENEROUSLY season with FRESH ground sea salt and black pepper.

Add the cabbage and cook until it is slightly tender, about 5-6 minutes.

Add the turnips and pour in the stock.

Season again with the caraway seeds, salt, pepper, and bay leaf and bring to a SLOW boil.
Reduce the heat to LOW, cover, and simmer until the cabbage and turnips are tender, about 1 hour.

Remove the bay leaf.

Add chicken pieces (see note), stirring well.

Stir in apple cider vinegar.

Cover and simmer for another 5 minutes.

Stir in the the fresh tarragon and parsley.

Adjust seasonings to taste.
NOTE: for a different flavor profile substitute 1 pound of browned ground beef.