This recipe is great all by itself, but I like to make it along with the CHEESY CORN BREAD PUDDING for two reasons. The first reason being that I use the bacon grease to brown the meatballs in and the second being that the brown gravy is absolutely delicious over the corn bread pudding. These two recipes compliment each other PERFECTLY the CORN BREAD PUDDING will post in a couple days.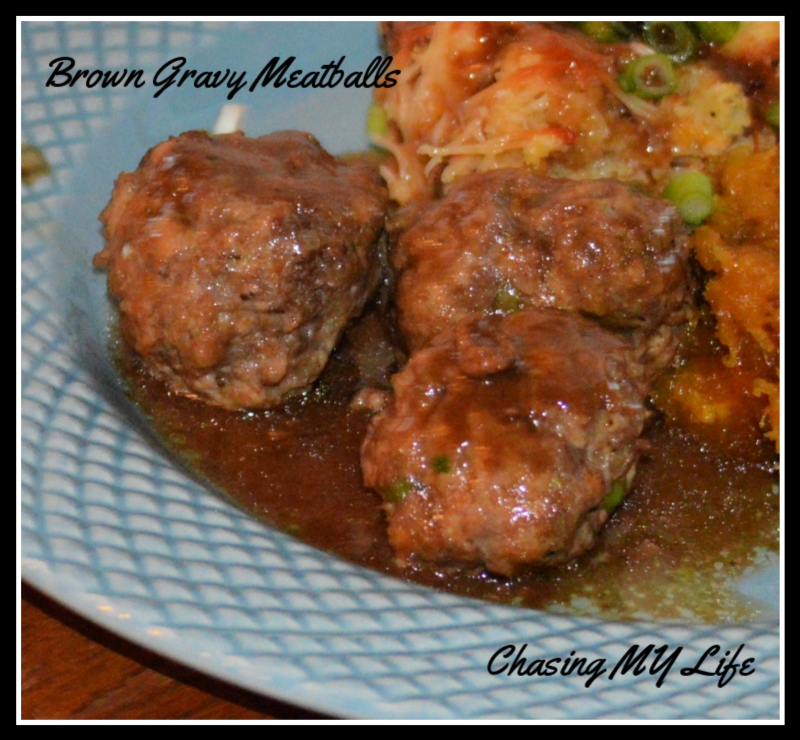 BROWN GRAVY MEATBALLS makes 30 golf ball sized Meatballs and 3 cups of gravy
1 pound ground pork
1 pound ground beef
3/4 cup grated onion
1/4 cup half and half
2 tablespoons cornstarch
1 egg
FRESH ground sea salt and black pepper, to taste
1/4 teaspoon nutmeg
1/4 teaspoon allspice
2 tablespoons butter
1 tablespoon avocado oil
4 cups beef broth
1 tablespoon Better than Bouillon beef base
3 tablespoons WONDRA
1 teaspoon Kitchen Bouquet (optional – mainly for color)
Preheat oven to 400°.
Spray baking dish with non-stick spray and set aside.
Whisk together the onion, half and half, cornstarch, egg, salt, nutmeg, allspice and pepper.
Add beef and pork, mixing to combine.
Portion into 30 meatballs, roll and set aside.
In a large skillet melt butter and avocado oil over medium high heat.
Add meatballs and gently brown all over, but do NOT cook all the way through. Transfer meatballs to baking dish.
Add 3 1/2 cups broth to pan and deglaze scraping up all the bits from the pan.
Stir in beef base and bring to a simmer.
Whisk together the WONDRA with remaining broth and kitchen bouquet if using. Add to gravy stirring constantly until thickened.
Season to taste with FRESH ground salt and pepper.
Pour gravy over meatballs, cover and transfer to oven for 35 minutes or until cooked through.