This is one of those recipes that I cut out, but have NO idea from where :D It was really good and I made very few changes to the original recipe.
I did make it with a caramelized Cabbage that I think next time I will place under the chicken before baking to make it a one-pan dish and add extra flavor to the cabbage.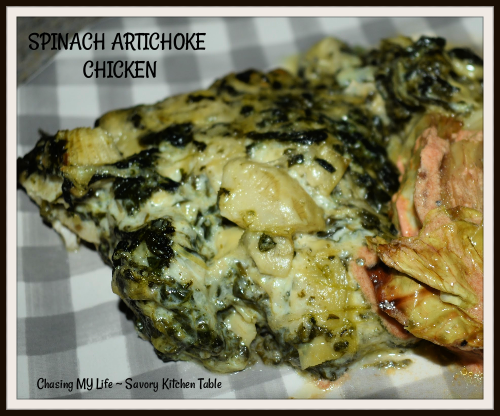 SPINACH ARTICHOKE CHICKEN
4-6 6 ounce boneless, skinless chicken breasts
FRESH ground sea salt and black pepper
15 ounce jar marinated artichoke hearts, drained WELL and chopped
10 ounce package frozen chopped spinach, thawed, drained and squeezed dry
1/4 teaspoon garlic powder
FRESH ground sea salt and black pepper, to taste
3/4 cup mayonnaise (NOT low-fat)
3/4 cup grated Parmesan cheese
Preheat oven to 375°.
Line baking dish with foil or spray with non-stick spray.
Generously season chicken breasts with FRESH ground sea salt and black pepper.
Arrange chicken in bottom of baking dish.
Stir together the remaining ingredients and spread over chicken pieces,
Bake 40-45 minutes until chicken is cooked through.
NOTE: I start draining the artichoke hearts about an hour before I begin cooking.