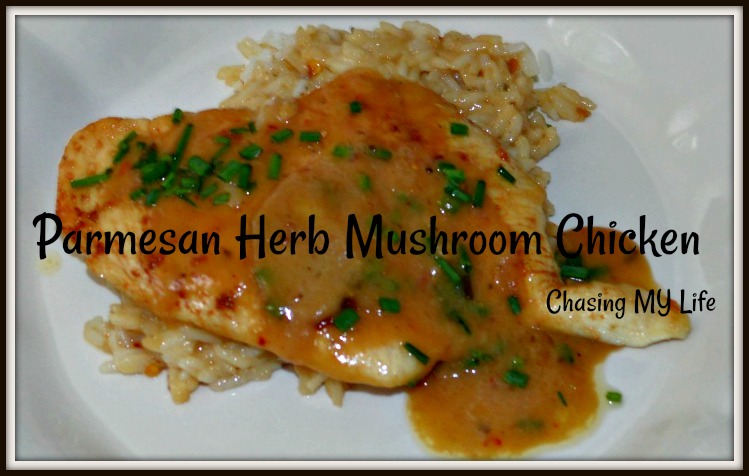 PARMESAN HERB MUSHROOM CHICKEN adapted from Cafe Delites
CHICKEN
2 tablespoons butter
6 skin on, bone in chicken thighs*
PINCH of garlic powder, to taste
FRESH ground sea salt and pepper
Preheat oven to 400°.
Generously season chicken with garlic powder, salt and pepper.
Heat a large cast iron skillet over medium high heat.
Add butter. When melted sear chicken thighs 2-3 minutes on each side (skin side down last) until golden and crispy.
Transfer chicken pan to the oven and roast until completely cooked through, about 25-30 minutes.
Transfer to a warm plate and set aside.
SAUCE
2 green onions, sliced thin
3 cloves garlic, minced
1 1/2 cups sliced mushrooms (I like to substitute beech mushrooms for a nuttier flavor)
1 tablespoon FRESH minced basil
1 teaspoon dried oregano
2 teaspoons FRESH chopped Flat Leaf Parsely
1½ cups Half and Half
2 cups baby spinach
3/4 cup fresh grated Parmesan cheese , divided
FRESH ground sea salt and pepper, to taste
1 KNORR chicken bullion cube, crushed
1 tablespoon cornstarch mixed with
2 tablespoons Half and Half
1/4 cup fresh chopped parsley for garnish
Drain all but 2 tablespoons of some of the excess fat from the skillet.
Return skillet to the stove over medium-high heat and sauté the onions and garlic a minute or so in the pan juices until fragrant.
Add the mushrooms, herbs and 2 teaspoons of parsley, sautéing until mushrooms begin to soften.
Reduce heat to low-medium heat, add the half and half and bring to a SLOW simmer, stirring occasionally, and being careful NOT to boil.
Add in the bullion cube powder and season with salt and pepper to your taste.

Mix together the cornstarch and 2 tablespoons half and half.
Add cornstarch mixture to the center of the pan, and continue to simmer while quickly stirring the mixture through until the sauce thickens.
Add 1/2 cup of Parmesan cheese; allow sauce to simmer for another minute until cheese melts through the sauce.
Add the chicken back into the pan and allow to simmer for 1-2 minutes in the cream sauce.
Taste test and adjust seasoning, if desired.
Fold in spinach leaves, stirring to coat and cooking JUST until they wilt.
Sprinkle with the remaining 1/4 cup of parsley and 1/4 cup Parmesan cheese.
Serve over mashed potatoes, rice or pasta.

NOTES – To substitute chicken breasts for the thighs there is no need to bake them. After adding the breasts back into the pan, continue simmering in the sauce until completely cooked through.