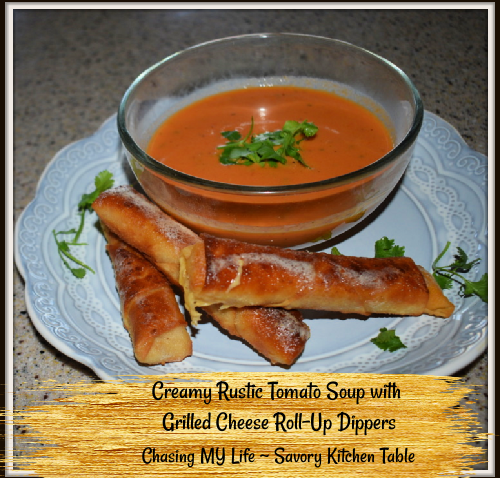 CREAMY RUSTIC TOMATO SOUP with GRILLED CHEESE ROLL-UP DIPPERS

ROASTED TOMATO MIX
2 large zuchinni peeled and slices
8 cups tomatoes (I used garden grown Roma, Cherry and Blue Indigo tomatoes)
1 bulb garlic, peeled and sliced
1 large bunch green onions, halved and roughly sliced diagonally
CREAMY RUSTIC TOMATO SOUP
3 cups chicken broth
FRESH ground sea salt and black pepper, to taste
1/3 cup chopped Italian parsley
2 tablespoons chopped FRESH Basil
2 tablespoons chopped FRESH Oregano
1/2-1 cup heavy cream
GRILLED CHEESE ROLL-UP DIPPERS
12 egg roll wrappers
12 Tillamook medium cheddar cheese snack sticks
1/4 cup grated Parmesan cheese
1 stick butter
1/2 cup avocado or canola oil
Start cheese stick on the corner of the egg roll wrapper and roll cheese stick twice.
Sprinkle with Parmesan cheese and wrap 2 more times folding in the corners as necessary.
Brush remaining open edges with water and continue rolling until well sealed.
Heat butter and oil (1/2 inch deep) to 375˚.
Fry sticks a few at a time until golden brown all the way around.
Drain on paper towels.