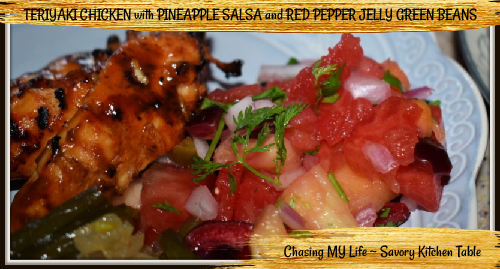 TERIYAKI CHICKEN
1/3 cup Bragg's liquid aminos
1/4 cup sugar
2 tablespoons mirin
1 tablespoon
FRESH
grated ginger
1 teaspoon cornstarch
2 pounds boneless skinless chicken breasts or tenders
Whisk together the liquid aminos, sugar, mirin, ginger and cornstarch together in a small saucepan.
Bring to a SLOW boil over medium heat until thickened, about 2 minutes.
Marinate chicken pieces for 1 hour.
Grill chicken 2-3 minutes per side on a medium hot grill.
Brush chicken with remaining sauce as grilling.
JALAPENO PINEAPPLE SALSA
1 pineapple, diced
4 cups watermelon cubes
2 jalapenos, seeded and diced
1 cup cherries, diced
1 small red onion, diced
1/3 cup chopped cilantro
Toss all together.
Chill at least 2 hours before serving.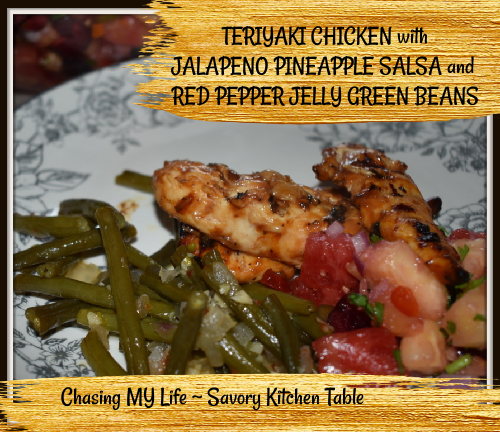 RED PEPPER JELLY GREEN BEANS
1 1/2 pounds
FRESH
green beans, trimmed
1
LARGE
shallot or
SMALL
red onion, diced
4 cloves or chicken in garlic, minced
FRESH
ground sea salt and black pepper
1/4 cup
FRESH
orange juice
1/2 cup red pepper jelly
2 tablespoons chopped cilantro
2 tablespoons butter
Heat butter until melted over medium heat.
Add shallots or red onions and saute 2-3 minutes until softened.
Add garlic and stir 30 seconds until fragrant.
Add green beans and orange juice, stirring to coat.
Add jelly to top of beans, cover and cook over medium heat 10-15 minutes until beans are tender.
Stir in cilantro to blend flavor and serve immediately.