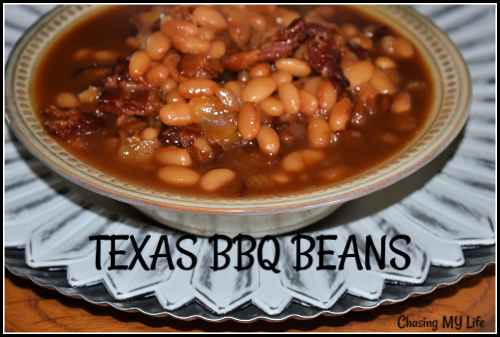 TEXAS BBQ BEANS
8 slices bacon, chopped
1 small Vidalia onion, chopped
3 cloves garlic, minced
1 tablespoon chili powder
FRESH
ground sea salt and black pepper
3/4 cup dark brown sugar
2 tablespoons molasses
1/4 cup JIF peanut butter
1 bottle 809 beer
1/4 cup jalapeno ketchup
2 cans (15 ounce) small white beans, drained and rinsed well
In a large dutch oven cook bacon until browned and crisp.
With a slotted spoon remove bacon pieces to drain on paper toweling.
Pour off all but 2 tablespoons of bacon fat.
Add onions, stirring until softened.
Add garlic, chili powder, salt and pepper to taste.
Add beer, brown sugar, peanut butter and ketchup, stirring to blend well.
Fold in beans and bacon.
Simmer 10-15 minutes until beans are heated through and sauce is thickened.
Let stand, covered 5 minutes.