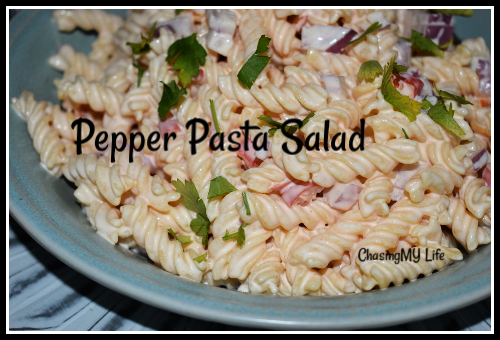 PEPPER PASTA SALAD
PREP & COOK
time 20-30 minutes Serves 6-8 as a side dish
1/2 pound pasta shells (
DO NOT USE GLUTEN FREE
)
10-12 mini peppers (red, orange and yellow combo)
1 shallot, chopped
1 small bunch radishes, chopped
1 tablespoon chopped fresh dill
1/4 cup chopped chives
1/2 cup mayonnaise
1/2 cup sour cream
1/4 cup buttermilk
1 tablespoon apple cider vinegar
3 tablespoons
QUALITY
Italian dressing
1/4 teaspoon garlic powder
1 tablespoon Frank's original hot sauce
FRESH
ground Sea Salt and Black Pepper
Cook pasta per package directions. Drain and rinse WELL with cold water until completely cool.
While pasta is draining

WELL

slice or dice peppers, radishes, shallot and chives.
Toss pasta with peppers, radishes, shallots and chives.
Whisk together the mayonnaise, sour cream, buttermilk, apple cider vinegar, Italian dressing, hot sauce and garlic powder.
Pour mayonnaise mixture over pasta, tossing to coat well.
Season to taste.
Sprinkle with dill.
Chill 6-8 hours.
NOTE:
Hard boiled eggs are a nice optional addition. When I use these I also add a sprinkle of paprika instead of the dill.
You can also shredded rotisserie chicken and turn this into a meal which serves 4 instead.