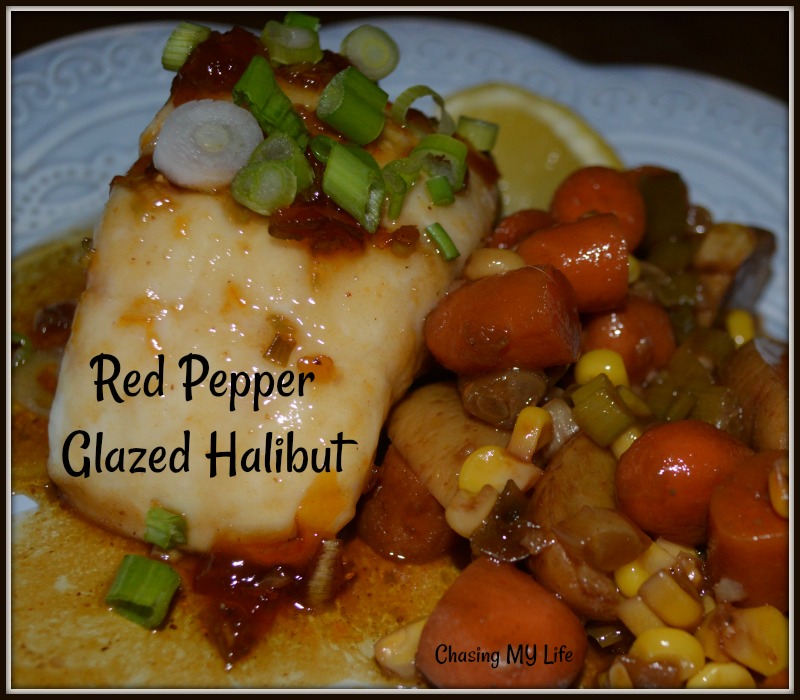 RED PEPPER GLAZED HALIBUT
FISH
2 Halibut Fillets
FRESH
ground salt and pepper
1 green onion, sliced thin
Adjust oven rack to 6 inches below broiler.
PREHEAT broiler.
Line baking sheet with foil.Place baking rack on top of foil and spray with non-stick cooking spray.
Generously season fillets with salt and pepper on both sides.
Arrange fillets on baking rack.
Generously brush tops of fillets with glaze.
Broil fillets for 2 minutes.
Flip fillets. Generously brush with glaze and return to oven another 2-3 minutes until they flake easily.
Serve with rice, potatoes or veggies of choice and remaining glaze.
Sprinkle with sliced green onions as garnish.
GLAZE
1/2 cup apple jelly (I use apricot a good deal of the time)
1/2 teaspoon red pepper flakes
1/4 cup apple cider vinegar
2 green onions, sliced thin
1 tablespoon avocado oil
2 tablespoons Bragg's Liquid Aminos
1 tablespoons
QUALITY
honey
2 cloves garlic, minced
1 teaspoon sesame oil
In a small sauce pan whisk together the jelly, red pepper flakes, vinegar, green onions, liquid aminos, honey, avocado oil, sesame oil and green onions.
Cook over medium heat about 10 minutes, stirring frequently until syrupy and reduced by about half.