This is a super creamy comfort food bowl of soup! Don't forget to add some
Antique cornbread
or some yummy
beer bread
.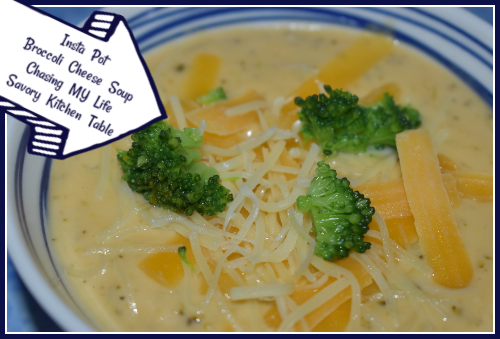 INSTA POT BROCCOLI CHEESE SOUP
4 cups chopped broccoli florets
3 cups shredded cheddar cheese
2 cups heavy whipping cream
1 1/2 cups (1 large onion) diced onions
1 cup diced (2 medium) carrots
1 cup diced (2 stalks) celery
5 cloves garlic, minced
2 tablespoons salted butter
FRESH
ground sea salt and black pepper, to taste
Paprika, for garnish
shredded cheddar cheese, for garnish
Select the saute mode for medium heat.
Add butter and stir until melted.
Add diced onions, carrots, and celery, cooking for about 5 minutes until onions are soft, stirring frequently.
Turn off the saute mode.
Add chopped broccoli and 2 cups of water, and stir.
Secure the lid and seal the vent.
Cook for 5 minutes at high pressure, immediately followed by a manual pressure release.
Uncover and select the saute mode.
Add heavy cream and garlic, and stir.
Gradually add shredded cheddar cheese, stirring in until melted and well-mixed.
Turn off the saute mode.
Add salt and pepper to taste.
Serve in bowls, top with additional shredded cheddar and sprinkle with paprika for garnish.