While this started as a traditional Broccoli Cheddar soup, like so many other recipes it morphed into something more, Veggie Cheddar Bisque or soup – your choice. I just love the word bisque 😀
Now to be clear the definition of soup is "

a liquid food especially with a meat, fish, or vegetable stock as a base and often containing pieces of solid food

" while the definition of bisque is "

a cream soup of pureed vegetables

". So, to be a true bisque you really need to puree

ALL

the vegetables.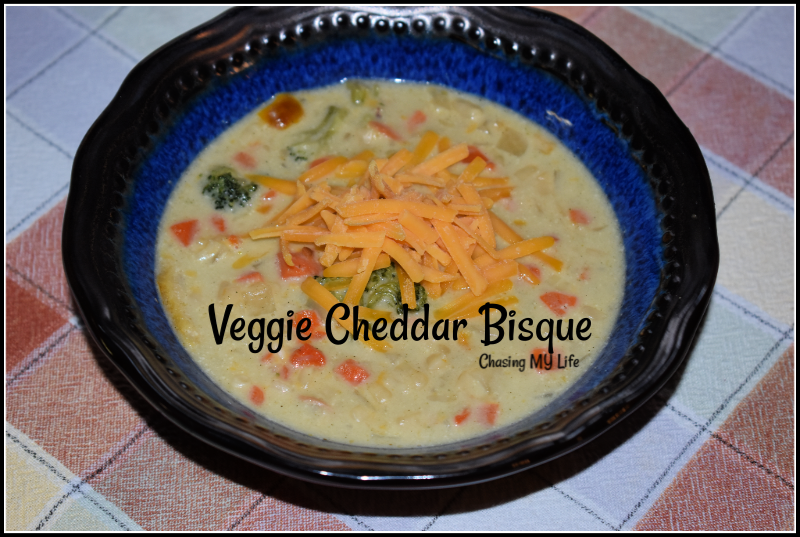 VEGGIE CHEDDAR SOUP/BISQUE
2 cups chopped broccoli
1 cup chopped carrots
1 bunch green onions, minced
1 clove garlic, finely minced
2 teaspoons
FRESH
ground sea salt
1/2 teaspoon celery salt
1 teaspoon
FRESH
ground black pepper
5 cups chicken broth
1 cup heavy whipping cream
1 cup shredded cheddar cheese
1 teaspoon red pepper flakes (optional)
Bring broth to a boil.
Add sea salt, celery salt, black pepper and red pepper if using.
Add broccoli, carrots and onions.
Reduce heat to a simmer, cover and cook 30 minutes or until vegetables are tender.
Remove vegetables and puree with food processor if bisque is your ultimate goal.
Stir in whipping cream and cheese until smooth.
Add vegetable puree back in, blending until mixed well.
Simmer another 30 minutes.