Traditional (Roman Style)
Saltimbocca
is
Italian for
jumps in the mouth,
an Italian usually made of veal lined, rolled-up or wrapped with prosciutto and sage; marinated in wine, oil or saltwater depending on the region or one's own taste and cooked in dry white wine and butter. Marsala wine is sometimes used. Also, sometimes the veal and prosciutto are not rolled-up but left flat. An American twist replaces the veal with chicken or pork.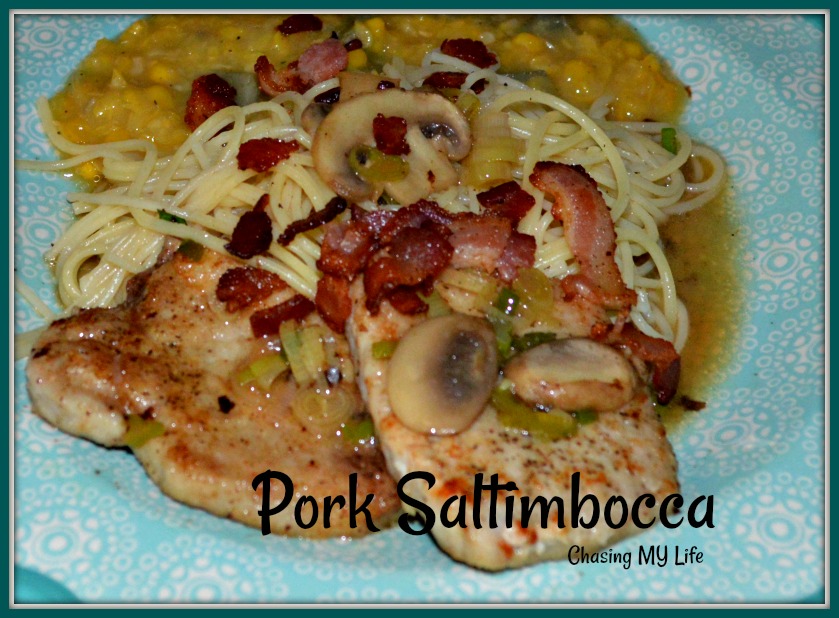 PORK SALTIMBOCCA with SHERRY MARSALA SAUCE (deconstructed)

3/4 pound pork tenderloin, sliced into medallions
FRESH
ground salt and pepper, to taste
1/4 cup WONDRA flour
2 tablespoons avocado oil
3 slices bacon, diced
1 large clove garlic, minced
6 large button mushrooms, sliced
1/4 cup Marsala wine
1/4 cup cream sherry
1/2 cup chicken broth
1 tablespoon unsalted butter
Prepared pasta of choice
Generously season medallions with salt and pepper.
Dredge medallions in flour.
Heat oil in skillet over medium heat.
Add bacon, cooking until crisp. Using a slotted spoon remove bacon to drain on paper towels.
Add medallions to pan and brown each side. Transfer medallions to plate.
Add mushrooms to pan, cooking 5 minutes or so until they start to caramelize.
Add garlic and cook 1 minute more until fragrant.
Add sherry, Marsala and chicken broth to de-glaze pan, scraping all the tidbits from the bottom of the pan. Simmer until reduced by half.
Remove from heat and add butter.
Plate pasta followed by medallions.
Top with sauce followed by bacon pieces.