During this isolation time, I'm returning to more and more scratch cooking – even more than I normally do 😀 I wanted to make some of my homemade
COWBOY BROWNIES
, but they called for sweetened condensed milk and I didn't have any and was
NOT
going out to get any so decided to dig out the recipe to make my own.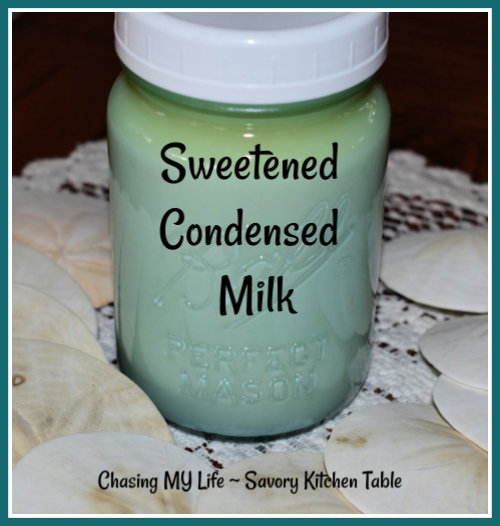 HOMEMADE SWEETENED CONDENSED MILK
– Makes 1 1/4 cups.
This Homemade version of sweetened Condensed Milk recipe makes a super delicious, made from scratch version of sweetened condensed milk for baking. It also makes a
GREAT
coffee mate or protein drink additive 😀
2 cups
WHOLE
milk
3/4 cup sugar, honey, or maple syrup (depending on the flavor you're looking for)
4 tablespoons salted butter, cut into small pieces
1 teaspoon
PURE
vanilla extract
Whisk together milk and sugar, honey or syrup in a medium saucepan over medium-low heat.
Whisking often, bring to a low simmer and whisking often, simmer until milk has reduced by half, about 30-45 minutes.
Once reduced, remove from heat and stir in butter and vanilla.
Allow to cool COMPLETELY!
Store in a mason jar in the refrigerator for up to 1 week.