This is a luscious Chicken Alfredo with plenty of OOMPH from the wilted spinach and sun dried tomatoes. The bacon adds yet another layer of flavor making it similar to a Carbonara. Shredding the chickens adds plenty of nooks and crannies for the sauce to adhere and provide lots and lots of flavors, though I tend to use tenders and serve them whole. I
adapted from RECIPE TIN EATS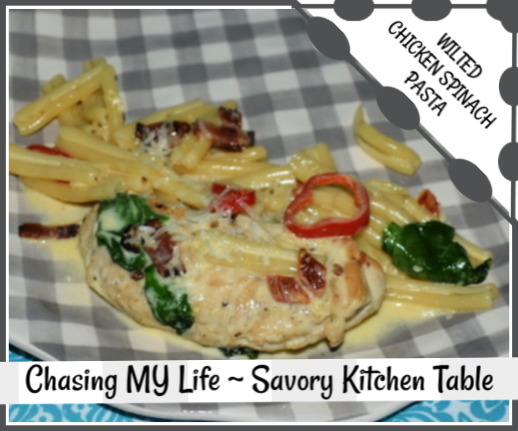 WILTED CHICKEN SPINACH PASTA serves 4

10 ounces fettuccine (see notes)
Cook pasta in a large pot of salted boiling water for package directions minus 2 minutes. The pasta will finish cooking in the sauce.

Just before draining, scoop out a cup of cooking water. Then drain pasta as directed.

1 tablespoons avocado oil
1 1/2 pounds of chicken breasts, cut in half horizontally or chicken tenders
FRESH ground sea salt and black pepper
Sprinkle both sides of chicken with salt and pepper.

Melt half the butter in a large skillet over high heat.

Add chicken and cook for 2-3 minutes on each side until deep golden.

Remove chicken onto plate, rest for a few minutes then shred with 2 forks.
SAUCE
2 tablespoons butter
3 garlic cloves , minced
1 small red pepper sliced
1/2 cup dry white wine
1/2 cup chicken broth
1 1/4 cups heavy cream – DO NOT USE LIGHT
3/4 cup FINELY shredded Parmesan cheese + more for garnish
1-2 cups torn baby spinach
3 ounces sun dried tomato strips, DRAINED (see notes)
4 slices bacon, diced and browned
FRESH chopped Parsley, for garnish
Reduce the heat of your skillet to medium high.

Add remaining butter, sun-dried tomato oil and garlic.

Cook garlic for 30 seconds until golden.

Add red pepper slices and cook another minute.

Add wine, si

mmering quickly and stirring to scrape up any brown bits off the bottom of the pan.

Once mostly evaporated, add chicken broth, cream, Parmesan and sun dried tomato pieces.




Simmer on medium for 3 – 5 minutes, stirring often, until it reduces and thickens.
ASSEMBLY
Add spinach, chicken, bacon pieces and cooked pasta.

TOSS – this is a MUST if you are shredding the chicken!

Cook sauce for 2 minutes, until sauce thickens and coats the pasta. (see notes)

Serve immediately with Parmesan and parsley if desired.

NOTES:
Flat wide pastas are best for creamy sauces, but any pasta will work in reality. DO NOT use fresh pastas.
When I drain the sun-dried tomatoes, I drain them into my skillet as part of my cooking oil for the sauce.
Use the reserved pasta cooking water as needed if the sauce gets too thick.