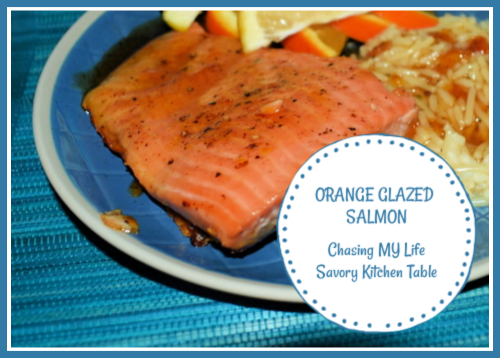 ORANGE GLAZED SALMON
2 salmon fillets, about the same size and thickness
2 tablespoons Cajun spice
1/2 teaspoon brown sugar
PINCH
sea salt
FRESH
ground black pepper
1 tablespoon avocado oil
2 tablespoons orange marmalade (see note)
Juice from small lime
Lime wedges, garnish
Combine Cajun spice, sugar, salt and pepper in small bowl.
Rub spice mixture all over salmon fillets.
Heat avocado oil in non-stick skillet over medium heat.
Sear skin side of fillets for 3-4 minutes until crispy.
Flip and saute' another 2-3 minutes until salmon is cooked through.
Whisk marmalade and lime juice together.
Swirl into skillet, turning fillets to coat well with glaze.
Serve immediately. NOTE:

You can change the flavor up by using any flavor jam! I've made this with pineapple, apricot pineapple, peach and even raspberry! YUM!