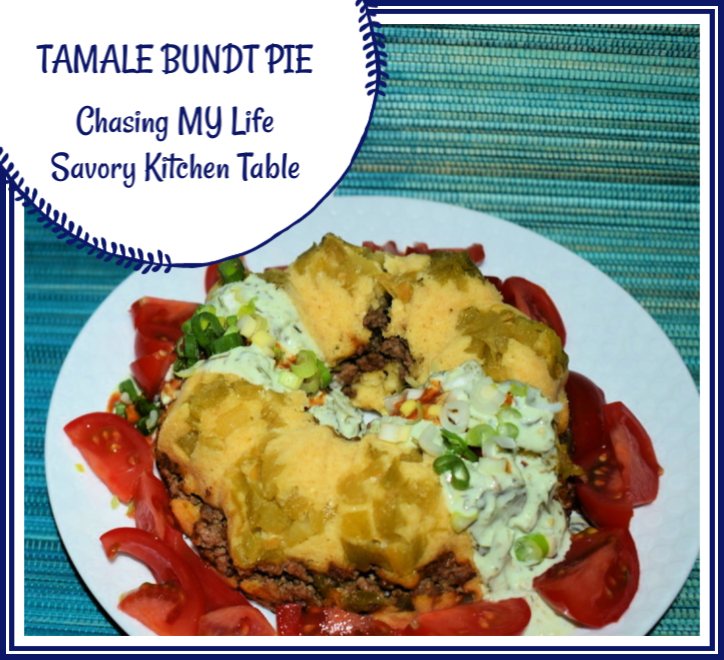 TAMALE BUNDT PIE
FILLING
1 1/4 pounds ground beef
1/2 teaspoon chili powder
1/2 teaspoon cumin
FRESH
ground sea salt and black pepper
16 ounces thick and chunky salsa
1 small can chopped green chiles, drained
WELL
Brown ground beef and drain off fat.
Add seasonings and salsa, stirring to blend. Cook 5 minutes over medium-high heat.
CORN BREAD
1 1/2 cups all purpose flour
1 cup yellow cornmeal
1/4 cup sugar
1 tablespoon baking powder
1/2 teaspoon sea salt
1 1/4 cups
WHOLE
milk
2 eggs
1/4 cup avocado oil
1 cup
SHARP
cheddar cheese
Sift together flour, cornmeal, sugar, baking powder and salt into a mixing bowl.
Whisk together the milk, oil and eggs.
Add wet ingredients to the dry ingredients whisking JUST until dry ingredients are moistened.
Stir in cheese.
ASSEMBLY
Preheat oven to 375.
GENEROUSLY spray bundt pan with non-stick spray.
Sprinkle green chiles on bottom of pan.
Spread half the batter over the green chiles.
Top evenly with filling.
Add remaining batter and spread smooth.
Bake 35-40 minutes until top is lightly browned.
Cool 5 minutes on rack.
Loosen edges with a knife.
Invert onto serving plate.
Garnish with crema and chopped tomatoes.
SALSA VERDE CREMA
1 cup sour cream
1 cup salsa verde
handful chopped cilantro
1 lime juiced
FRESH
ground sea salt and tri-color pepper
Pulse all the ingredients together to desired color and consistency. The more you blend the lighter the color will become.