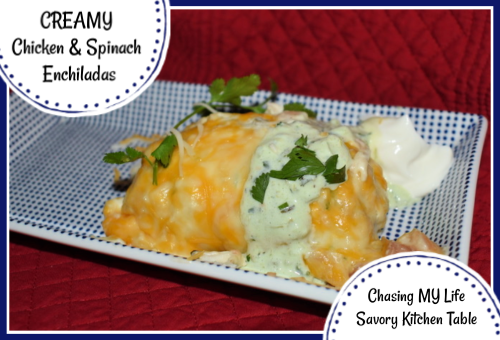 CREAMY CHICKEN & SPINACH ENCHILADAS
4 ounces cream cheese, softened
2 tablespoons salsa verde
8 ounce package of frozen spinach, thawed and drained
WELL
3 tablespoons milk
3 cups shredded rotisserie chicken
1 1/2 cups Monterey Jack cheese
scant 1/4 cup
FRESH
chopped cilantro
2 green onions,
FINELY
chopped
FRESH
ground sea salt and tri-color pepper
flour tortillas
Preheat oven to 350°.
Spray baking dish with non-stick spray.
Stir together the cream cheese and salsa verde until smooth.
Add spinach and blend well.
Transfer half the mixture to a separate bowl.
Stir in milk and set aside.
Fold in chicken, cilantro, green onions, 1/2 cup of cheese, salt and pepper to the first bowl.
Heat skillet over medium heat.
Add tortillas, one at a time, turning and cooking 1-2 minutes until blistered.
Divide chicken mixture evenly among tortillas.
Roll up and place in baking dish in a single layer.
Spread reserved spinach mixture over top of enchiladas.
Sprinkle with remaining cheese.
Bake uncovered, 20-25 minutes.
Brown under broiler 1-2 minutes until cheese is melted and browned.