MELTING POTATOES are a Pinterest idea worth trying! Despite all the wonderful recipe pictures on pinterest, I have tried some less than stellar recipes and am usually of the mind, 'if it looks to good to be true…", but this recipe actually works and lives up to the beautiful pictures.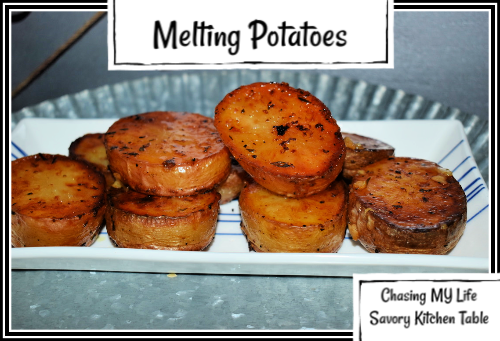 MELTING POTATOES
2 pounds YUKON gold potatoes
4 tablespoons unsalted butter, melted
2 tablespoons FRESH chopped thyme
FRESH ground sea salt and black pepper
1 cup chicken stock
3-4 cloves garlic, FINELY minced
Preheat oven to 500° with the rack in upper-middle position.

Slice potatoes into THICK 1 inch rounds.


whisk the thyme. salt and pepper into the melted butter.

Toss the potato rounds in the melted butter mixture.

Arrange the potato pieces in a single layer in a METAL* baking dish.

Bake for 15 minutes.

Flip potatoes and bake 15 minutes more.

Whisk together the chicken stock and garlic.

Add chicken stock mixture to pan around potatoes and return to the oven for 15 minutes more or until the stock is mostly absorbed.

Transfer potatoes to serving platter and top with remaining stock liquid.

Serve immediately.
NOTES:
Do NOT use a glass baking dish! At this temperature it may shatter.
Do

NOT

use a LOWER temperature so you can use a glass baking dish. You need the higher temperature to create the deep golden, crispy outside of the potatoes.