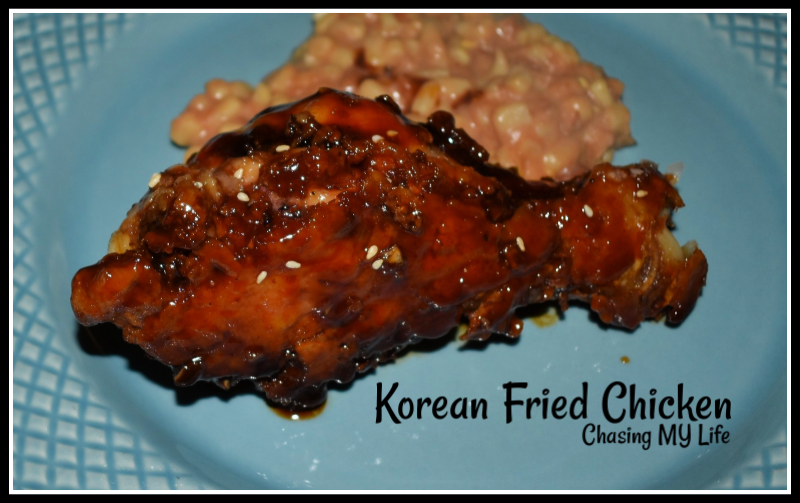 KOREAN FRIED CHICKEN
3 pounds drumsticks
FRESH
finely ground sea salt and black pepper
1/2 + 1/3 cup cornstarch
1/2 + 1/4 teaspoon baking powder
2 tablespoons avocado oil
1 cup coconut oil
1 stick butter
4 cloves garlic, finely minced
2 teaspoons
FRESH
finely grated ginger
1/4 cup Bragg's liquid aminos
1/4 cup packed brown sugar
1 tablespoon molasses
2 tablespoons
QUALITY
honey
2 teaspoons rice wine vinegar
1 teaspoon Sriracha
1 teaspoon Sesame oil
1/3 cup AP flour
1/3+ cup Vodka
1/3 cup
COLD
water
Toasted sesame seeds, for garnish
Toss chicken with salt and pepper to taste.
Whisk together the 1/2 cup cornstarch and 1/2 teaspoon baking powder.
Dredge chicken pieces in the cornstarch mixture, shaking off any excess.
Transfer chicken pieces to a rack and let sit uncovered for 30 minutes.
In a small sauce pan heat the avocado oil over medium high heat.
Add garlic and ginger, sauteeing 2-3 minutes until soft.
Add liquid aminos, brown sugar, molasses, honey, rice vinegar, sriracha, and sesame oil. Bring to a simmer for 6-8 minutes until it begins to thicken.
Remove from heat and set aside.
In a LARGE skillet (preferably cast iron) melt coconut oil and butter over medium high heat.
Whisk together the flour, 1/3 cup cornstarch, 1/4 teaspoon baking powder and a pinch of salt.
Add the vodka and COLD water, whisking until smooth and thinned out to a milky consistency. If needed add vodka and cold water alternately 1 tablespoon at a time until you reach the desired consistency.
Dip chicken pieces one at a time, allowing excess batter to drip off.
Add each piece to the HOT oil.
Fry the chicken until the coating is crisp on ALL sides, but not browned, about 10-15 minutes. Drain pieces on rack.
Double fry the chicken until browned and crisp. Drain a 2nd time on rack.
Brush with sauce, coating all sides.
Sprinkle with sesame seeds.