FARM STYLE MEATLOAF is a recipe I adapted from
Kevin Penner's 1770 House Meatloaf
recipe after watching an episode of
Ina Garten
's
Barefoot Contessa
. I debated on what to name this dish after my changes. I flip flopped between Greenhouse and Farm style before finally landing on Farm style. All of the different meats and
FRESH
herbs and vegetables influenced my final decision for naming it Farm Style. Honestly, I may yet rename it as I think more.
It is similar, yet completely different from my normal meatloaf recipe that I've been using for eons! We instantly fell in love with the earthiness of this meatloaf and the savory herb sauce was perfect with mashed potatoes too! Hubby normally loves ketchup or BBQ sauce with meatloaf, but with this flavorful sauce he bypassed it completely!
The key to this recipe is using QUALITY ingredients! Preferably grass fed meats and very FRESH organic ingredients.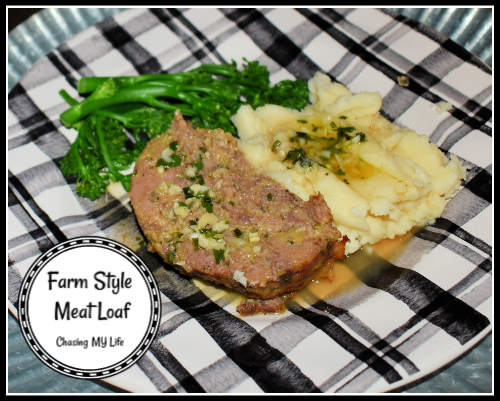 FARM STYLE MEATLOAF
1/3 pound ground veal or lamb
1/3 pound ground pork
1/3 pound ground beef
1 teaspoon chopped,
FRESH
chives
1 teaspoon chopped,
FRESH
thyme leaves
1 teaspoon chopped,
FRESH
Italian parsley
1
LARGE
egg
scant 1/2 cup finely ground Panko crumbs
scant 1/4 cup whole milk
2 teaspoons kosher salt
1 teaspoon freshly ground black pepper
Avocado oil
1 stalk of celery,
finely
diced
1
LARGE
shallot,
finely
diced
Preheat the oven to 350°.
Place the veal, pork, beef, chives, thyme, parsley, eggs, Panko crumbs, milk, salt and pepper in a large mixing bowl. Set aside.
Heat a medium saute pan over medium-high heat and film it with avocado oil.
Add the celery and shallot to the pan, stirring, until softened.
Remove the celery and shallot from the pan and let cool.
When the mixture is cool, add it to the mixing bowl with the other ingredients.
Using gloved hands, mix the ingredients until well combined and everything is evenly distributed.
Place a LARGE piece of parchment paper on a sheet pan.
Place the meat on the sheet pan and pat it and punch it down to remove any air pockets shaping the meat into a loaf about 6 inches long x 2 inches high.
Place the sheet pan in the oven and bake 40 to 50 minutes or until a meat cooked through (155-160°).
Remove the meatloaf from the oven and let it rest for 10 minutes.
SAUCE
2/3 cup chicken or beef stock
1 tablespoon Marsala wine
3 cloves roasted garlic, minced
1/2 teaspoon
FRESH
chopped chives
1/2 teaspoon
FRESH
chopped thyme leaves
1/2 teaspoon
FRESH
chopped Italian parsley
1 tablespoon butter, room temperature
1 teaspoon cornstarch (optional)
Combine the broth, Marsala wine, roasted garlic and butter over medium-high heat and simmer for about 10 to 15 minutes, or until lightly thickened.
Add the chopped thyme, chives and parsley.
Quickly whisk in the cornstarch if needed to thicken as necessary.
Slice the meatloaf into serving portions and spoon the hot sauce over the meatloaf and mashed potatoes.
Serve immediately.
NOTE:
You can use a loaf pan if you prefer, but we like the firm crispy edges produced using this method.