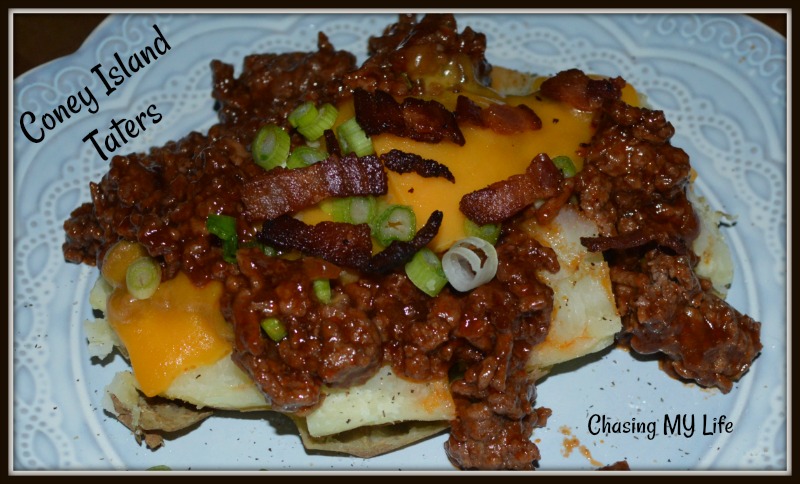 I've been making a recipe similar to this for years, but recently found a name for them on a package of ground beef from my grocer. It's a cute name and really fits the recipe – it's so country fair or carnival like! If you have left over
Sloppy Joes
they substitute well for the ground meat mixture also to make a quick weeknight meal.
CONEY ISLAND TATERS
1 pound ground beef (I use ground chuck)
1 medium Vidalia onion, chopped small
1 cup favorite BBQ sauce
2 large Russet potatoes (
BAKED
)
FRESH
ground salt and pepper
1/2-3/4 cup shredded cheddar cheese (to taste)
1 bunch green onions, sliced thin
1/2 cup bacon pieces
1/2 cup sour cream
Heat a large skillet over medium high heat. Use non-stick if you have it, but if using cast iron oil it slightly before adding ground meat.
When pan is hot add ground beef and onion, sauteing 8-10 minutes all the while breaking meat into small crumble sized pieces.
Pour off excess grease. I actually pour it into a stainless steel colander over a paper towel lined paper plate so it can drain REALLY well. I can also use the spatula to break the meat apart even more into that small crumble.
Add BBQ sauce, mix well, cover and simmer on ow 10 minutes.
Starting lengthwise slice potatoes into quarters and theft each quarter ion half.
Arrange 4 pieces of potato on each plate.
Generously salt and pepper potatoes.
Top with a spoonful of beef mixture.
Top beef with shredded cheese, bacon pieces, green onions and sour cream to taste.