These are the perfect appetizer for
ANY
party. Super easy recipe ready in just minutes with only a few ingredients.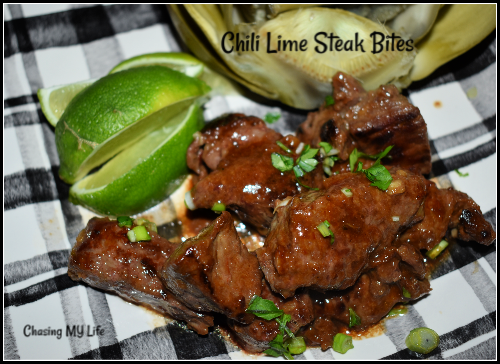 CHILI LIME BITES
1 pound top sirloin steak, cut into large bite sized pieces
scant 1/2 teaspoon
FRESH
ground sea salt
scant 1/2 teaspoon
FRESH
ground black pepper
scant 1/2 teaspoon garlic powder
1 tablespoon
QUALITY
honey
1 tablespoon chili paste
2 cloves garlic, finely minced
1 tablespoon avocado oil
2
LARGE
limes zested and juiced
chopped parsley and green onion, for garnish
Place steak pieces in a mixing bowl.
Sprinkle with the salt, pepper and garlic powder. Toss to coat well.
Whisk together the honey, chili paste and garlic.
Pour chili paste mixture over steak pieces and toss until well mixed and coated.
Heat avocado oil in skillet over medium-high heat until sizzling. If it doesn't sizzle and hiss, the pan is not hot enough.
Sear the steak for 1 minute before touching it, then flip the steak bites.
Sear the steak on the second side for an additional 1 minute, then remove the steak from the pan to a plate.
Add the lime zest and lime juice to the hot pan, stir to combine, and pour the chili lime sauce of the steak bites.