With this horrible recuperation and limited food, eating out is a real pain in the butt.
BUT
, I'm in love! In love with restaurants that have great appetizer menus.
LOL
:D I ordered the Chicken Lettuce Wraps at P.F. Chang's the other day from their appetizer menu and got 4 meals out of it! But, what I fell in love with was the actual flavor. The added bonus was the small chop on all the ingredients making it easy for me eat
AND
it heats up in the microwave for subsequent meals tasting the same as it did served fresh! So, of course I had to duplicate the recipe for home use and believe I have come
REALLY
close.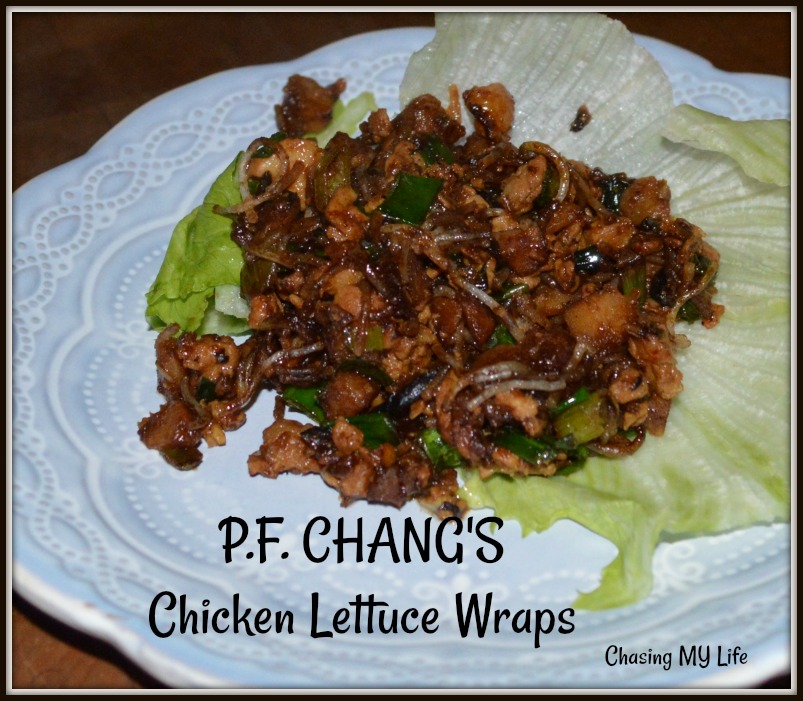 P.F. CHANG'S CHICKEN LETTUCE WRAPS
3 tablespoons avocado oil
2 boneless skinless chicken breasts
1 cup water chestnut, diced small
2⁄3 cup mushroom, diced small
1 small shallot, diced
1 bunch green onions, sliced thin
1 tablespoon freshly grated ginger
2 cloves garlic, minced
8 leaves butter lettuce
1/2-1 cup crispy rice noodles
freshly ground sea salt and black pepper, to taste
Bring oil to high heat in a wok or large frying pan.
Saute chicken breasts for 4 to 5 minutes per side or done.
Remove chicken from the pan and cool.
Add shallots and green onions to pan sautéing until soft.
Add water chestnuts, garlic, mushrooms and ginger, sautéing a few minutes more.
Add stir fry sauce and stir until well blended.
When chicken is cool, shred it as small as the mushrooms and water chestnuts pieces are.
Add chicken into mixture, toss to blend and coat well.
STIR FRY SAUCE
2 tablespoons soy sauce
2 tablespoons brown sugar
1⁄2 teaspoon rice wine vinegar
Whisk together the soy sauce, brown sugar, and rice vinegar in a small bowl.
SPECIAL SAUCE
1⁄4 cup sugar
1⁄2 cup water
1/4 cup hoisin sauce
2 tablespoons soy sauce
2 tablespoons rice wine vinegar
1 tablespoon lemon juice
1⁄4 teaspoon sesame oil
2 teaspoons water
1 -2 teaspoon Siracha
Whisk together the sugar and water in a small bowl until completely dissolved.
Add soy sauce, rice wine vinegar, lemon juice, sesame oil, hoisin sauce and desired amount of Siracha whisking until well blended.
ASSEMBLY
Serve each helping in a lettuce leaf.
Top with a handful of crispy rice noodles.
Pour Special sauce over the wraps.