Another RECIPE SCRAP recipe wins! The horseradish and cheddar cheese combo is

AWESOME

! and really elevates a basic stew to the next level.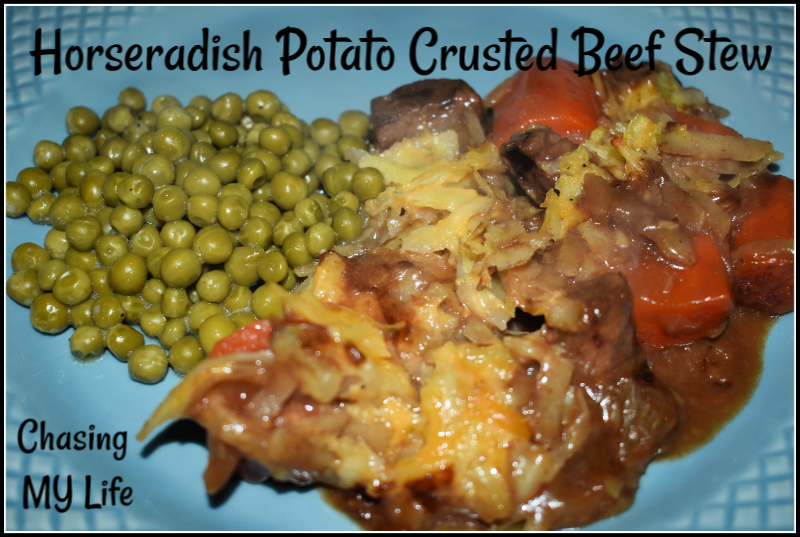 HORSERADISH POTATO CRUSTED BEEF STEW
STEW
1 1/2 pounds lean stew meat, diced small bite sized
1 cup blended red wine
1/2 cup Moscato white wine
1 tablespoon caraway seeds
FRESH
ground salt and pepper, to taste
1 orange, sliced
1/3 cup Wondra
1 large Vidalia onion, quartered and sliced
4 carrots, sliced into thick chunks
2 cloves garlic, minced
8 ounces mushrooms, sliced
3/4 cup beef bone broth
2 tablespoons cornstarch
Place half the orange slices the bottom of a non-metallic bowl.
Top with beef pieces.
Generously season with FRESH ground salt and pepper.
Top with the remaining orange slices.
Whisk together the wines and caraway seeds.
Pour over beef, cover and marinade over night or at least 4 hours.
Preheat oven 325°.
Drain the beef WELL, discard oranges, but reserve the marinade.
Heat the oil over medium high heat in dutch oven.
Generously season the beef with FRESH ground sea salt and black pepper.
Dredge the beef in the Wondra.
Sear the beef pieces.
Add the onions, garlic and carrots and simmer 5 minutes or so.
Add mushrooms.
Whisk together the cornstarch with the beef stock and marinade, whisking until blended. Stir into stew.
Season to taste.
Cover and cook in oven 45 minutes.
CRUST
– prepare potato crust so it is ready at the 45 minute mark
1 1/2 pounds YUKON potatoes, grated
1 tablespoon Avocado oil or 1 1/2 tablespoons melted butter
2 tablespoons creamy horseradish
2/3 cup grated
SHARP
cheddar cheese
FRESH
ground salt and pepper, to taste
Blanch the grated potatoes for 5 minutes in boiling water.
Drain well.
Use a cheesecloth to squeeze any remaining liquid from the potatoes.
Stir in avocado oil, horseradish, cheese and season to taste.
Layer potatoes evenly over the stew.
Increase the oven temperature to 400°.
Cook 30 minutes more until the potato crust is crisp and golden brown.