HINT OF CHOCOLATE ORANGE BUNDT CAKE
seriously adapted from Cook's Illustrated, Cook's Science, America's Test Kitchen's Orange Bundt Cake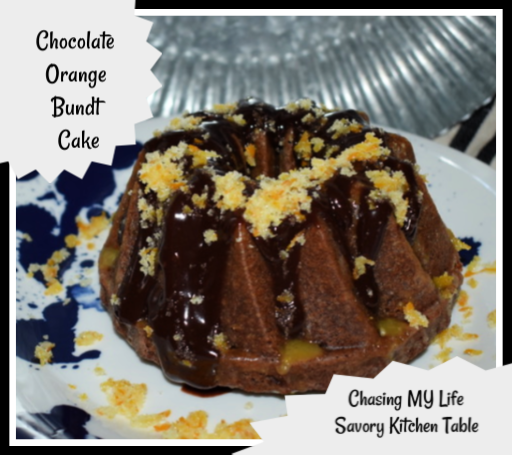 CAKE
4
LARGE
eggs
2 tablespoons
FINELY
grated orange zest
3/4 cup orange juice
1 teaspoon
PURE
vanilla extract
2 cups all purpose flour
1/2 cup Hershey's cocoa powder
2 cups sugar
1 teaspoon salt
1 teaspoon baking powder
1/2 teaspoon baking soda
18 tablespoons unsalted butter (cut into 18 pieces and softened)
Preheat oven to 350°.
Adjust rack to middle position.
Grease and flour a large bundt pan.
In a medium bowl, whisk eggs, orange zest, orange juice and vanilla together.
Whisk together flour, cocoa, sugar, salt, baking powder and baking soda on LOW speed until combined.
Add butter one piece at a time until mixture resembles coarse pea sized pieces.
Add egg mixture slowly, scraping bowl regularly for about 2 minutes until mixture is light and fluffy.
Pour batter into prepared pan and smooth top.
Bake 45-55 minutes until tester comes out clean.
Cool on wire rack for 20 minutes.
Remove cake from pan and continue cooling on wire rack.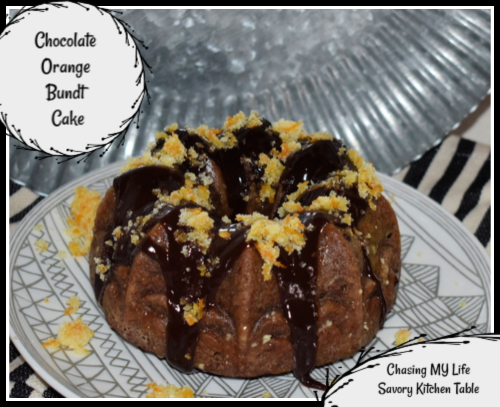 ORANGE GLAZE
2 cups powdered sugar
1/2 cup frozen orange juice concentrate, thawed
Juice of 1
LARGE
lemon (about 4 teaspoons)
Pinch of salt
Whisk 1 1/2 cups of powdered sugar, orange juice concentrate, lemon juice and salt together in bowl until smooth.
Place wire rack in a rimmed baking sheet.
Brush cake with 1/4 cup of the orange glaze.
Let cake stand 1 hour.
Whisk remaining 1/2 cup powdered sugar with the remaining glaze.
Pour evenly over cake.
Let cake sit 5-10 minutes while you prepare the ganache.
CHOCOLATE GANACHE DRIZZLE
1/2 cup semi sweet chocolate chips
1/4 cup heavy whipping cream
Add the chocolate chips to a medium sized bowl and set aside.
Add the heavy whipping cream to a microwave safe bowl or measuring cup and heat for about 1 minute, watching it closely so it doesn't burn or boil over
Pour the warm cream over the chocolate chips and allow to sit for 3-5 minutes. I put a plate on top to trap the heat.
Gently stir the cream and chocolate together until they come together to a smooth consistency. DO NOT whisk too vigorously to prevent air bubbles in the ganache making it smoother.
Drizzle ganache over cake in an alternate pattern to the glaze.
ORANGE SUGAR
3 tablespoons granulated sugar
1 1/2 teaspoons
FINELY GRATED
orange zest
Using fork mix together the granulated sugar and orange zest.
Sprinkle over ganache.