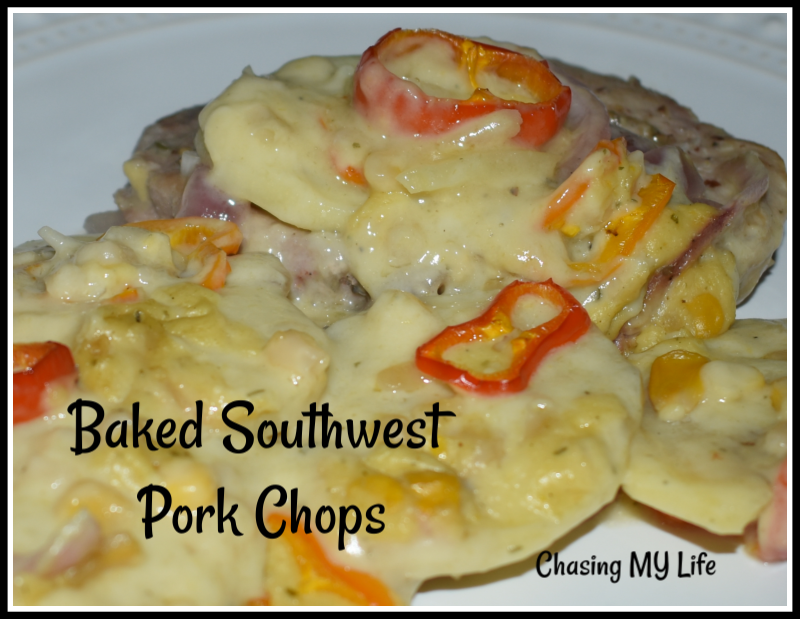 BAKED SOUTHWEST PORK CHOPS
6 -8 boneless pork chops
1 tablespoon butter
1 tablespoon avocado oil
1 small red onion (I use the purple because it gives it more flavor), halved and thinly sliced
1 can Campbell's cream of sweet corn soup
1 small can green enchilada sauce
1 small can chopped green chiles,
DRAINED WELL
1 can shoepeg corn,
DRAINED WELL
4 ounces sour cream
1 package Laura Scudder's green onion dip mix
FRESH
ground sea salt and black pepper, to taste
2 large white potatoes, peeled and thinly sliced
sliced mini peppers
Generously season pork chops with FRESH ground sea salt and black pepper.
Melt butter and avocado oil in skillet over medium high heat.
Sear your pork chops in a skillet.
Preheat oven to 350°.
Spray baking dish with non-stick cooking spray.
Whisk together the soup, sour cream and enchilada sauce.
Fold in the corn and green chilies.
Spread half the sauce on the bottom of the baking dish.
Top with the potatoes slices.
Top with a thin layer of the sauce.
Place browned pork chops in the baking dish in a single layer on top.
Top with the sliced onions.
Pour remaining sauce over the top and spread even.
Top with sliced mini peppers.
Bake in the oven for about 60 minutes or until potatoes are tender.
Serve hot.