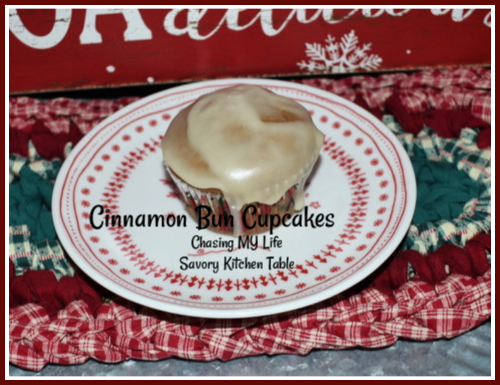 CINNAMON BUN CUPCAKES
CUPCAKES
1 1/4 cup all-purpose flour
1 1/4 teaspoon baking powder
1/2 teaspoon baking soda
1/2 teaspoon table salt
1 teaspoon cinnamon
2 LARGE eggs
1/2 cup canola oil
3/4 cup sugar
2 teaspoons PURE vanilla extract
1/2 cup sour cream
Pre-heat oven to 350°.
Line cupcake tins with papers.
Sift flour, baking powder, baking soda, cinnamon, and salt together. Set aside.
Whisk eggs for about 1 minute. They will become frothy and lightened in color.
Add oil and whisk again until combined.
Add sugar and whisk for about 1 minute.
Add vanilla extract.
Add sour cream to the batter, whisking until combined
Now add the sifted dry ingredients to the bowl and whisk gently. Whisk batter until JUST until combined. DO NOT OVERMIX!
CINNAMON SWIRL
1 1/2 tablespoons ground cinnamon
2 tablespoons brown sugar
2 tablespoons white sugar
Make the Cinnamon Swirl: mix 1 1/2 tablespoons of ground cinnamon with 2 tablespoons of brown sugar and 2 tablespoons of white sugar. Set aside.
ASSEMBLY
Now start by pouring about 1 heaping tablespoon of the batter on the bottom of each cupcake tin.
Sprinkle with 1/2 teaspoon of the Cinnamon Swirl mixture.
Top with another heaping tablespoon of batter.
Now, sprinkle another 1/2 teaspoon of Cinnamon Swirl mixture over batter.
Top with another heaping tablespoon of batter.
Using a toothpick, swirl the batter a few times to create a swirl effect.
Top already swirled cupcakes with one final 1/2 teaspoon of the Cinnamon Swirl mixture.
Bake for 10-12 minutes, checking halfway to rotate pans.
Remove from the oven once cupcakes are lightly golden brown and puffed.
Cool 10 minutes.
GLAZE
+/- 1 cup powdered sugar sifted
+/- 2 tablespoons milk
Mix powdered sugar and milk together.
NOTES:
There are many factors that will affect your glaze consistency. The brand of sugar you use, whether you use a scale or a measuring cup… If your glaze is too thin and runny, add more sifted powdered sugar and test for consistency again. If the glaze is too thick and not spreading, add a
very, very
small amount (1 teaspoon) of milk at a time, until you achieve your desired consistency.