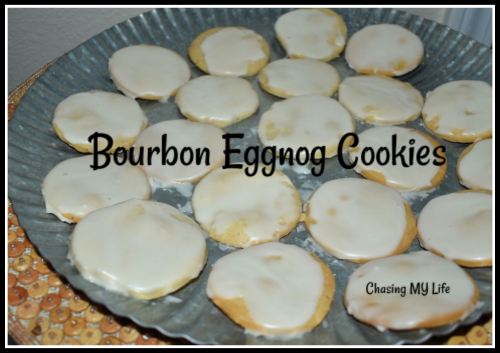 EGGNOG SUGAR COOKIES yields 2 dozen 1 ½ inch cookies
COOKIES
1 1⁄8 cups all purpose flour
¹⁄³ cup powdered sugar
½ teaspoon fine sea salt
½ teaspoon FRESHLY grated nutmeg
½ cup unsalted butter, cubed and softened
Preheat oven to 350°.

Line baking sheet with silicone mat.

Using your mixer on low speed combine flour, powdered sugar, salt and nutmeg until well blended.

Increase speed to medium and add butter 1 piece at a time until dough starts to form into a ball.

Turn dough out onto a lightly floured surface and shape into a disc.

Wrap in plastic and chill 30 minutes minimum.
On a lightly floured surface roll out dough to a 1/8 inch thickness.

Cut out cookies with a 2 inch cutter and use a metal spatula to place cookies on silicone sheet.

Return any dough scraps to plastic wrap in the refrigerator .

Bake 15-18 minutes when edges begin to brown.

Completely cool in pans before icing.

Repeat the process with the remaining dough.
ICING
1 ½ cups powdered sugar
4 tablespoons prepared eggnog
scant 1 tablespoon Bourbon
LEMON and/or ORANGE zest, for garnish
Whisk together the sugar, Bourbon and 1 tablespoon of the eggnog at a time, until you have a thin glaze consistency.

Spread glaze on cookies.

Garnish with zest.

Allow icing on cookies to set 30 minutes or until completely set.

Store in airtight container.