I wanted to use what I had on hand so made a Mexican version of my Beef Ragu. Naming it was an entirely different story!
I found tons of words to replace ragu like goulash, pot-au-feu, gumbo, suey, cassoulet, chowder… You get the idea, but I couldn't find a word in Spanish. Finding a word for word translation of RAGU was challenging.
Turns out there isn't a

DIRECT

word for translation so I read until I found an acceptable translation for this Mexican version of my
Beef Ragu recipe.
The word soffritto is still Italian, but I found the same word with a single f and single t (sofrito) used for Puerto Rican and Latin American recipes. Close enough for me!
A Ragu is meat based with a little sauce added.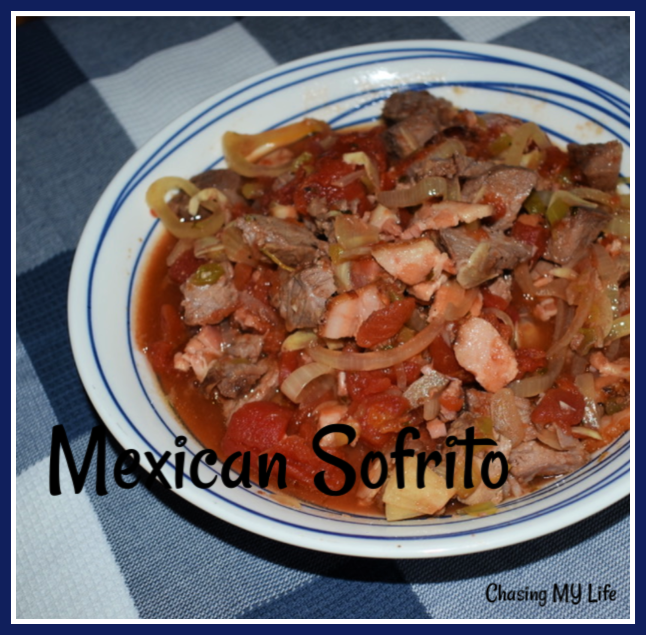 MEXICAN SOFRITO ala SLOW COOKER
1 small yellow onion, finely chopped
5-6 cloves garlic, sliced paper thin
4 slices bacon, chopped
2 ½ -3 pound chuck roast
1 tablespoon House Seasoning (see below)
28 ounces crushed tomatoes, with cumin and chili powder to taste
1 large can chopped green chiles
¼ cup chopped cilantro
1 cup beef broth
3 tablespoons tomato paste
1 large carrot, peeled and grated
2 tablespoons red wine vinegar
FRESH
ground sea salt and black pepper
Cotija cheese
Spray a large slow cooker with non-stick cooking spray.
Arrange the onions, garlic, green chiles and bacon pieces in the bottom of the slow cooker.
Generously season roast with FRESH ground sea salt and black pepper on both sides.
Arrange roast on top of the onion mixture.
Sprinkle the carrots on top of the roast.
In a medium bowl, blend together the tomatoes, tomato paste, beef broth, red wine vinegar and cilantro.
Pour over the roast.
Cover and cook on low 8-10 hours until the beef is EXTREMELY tender and falls apart.
Skim any fat from the top.
Use 2 forks to shred the beef.
Stir beef into the sauce.
Adjust seasonings.
Re-cover and cook for another hour to allow the flavored to meld together.
Serve with corn tortillas and top with Cotija cheese sprinkles.
This is an adapted version of my
Beef Ragu
recipe.