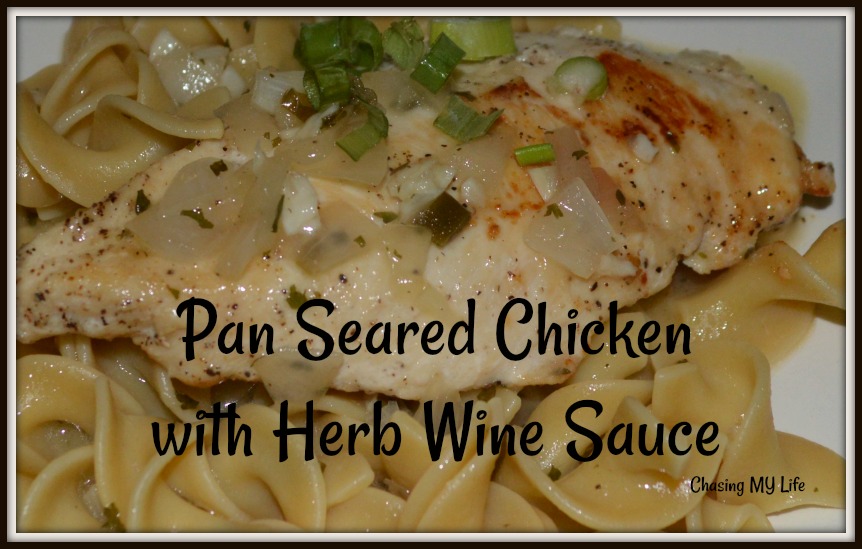 PAN SEARED CHICKEN with HERB WINE SAUCE
4 skinless, boneless
THIN
chicken breast steaks
FRESH
ground sea salt and black pepper
1 tablespoon Avocado oil
1 tablespoon butter
1 small shallot, finely chopped
1/2 cup white wine
1/4 cup chicken broth
1/2 teaspoon
FRESH
chopped thyme
1/4 teaspoon
FRESH
chopped tarragon
1/2 teaspoon
FRESH
chopped chives
Juice of 1 lemon
1 tablespoon
UNSALTED
butter
prepared egg noodles
Heat cast iron pan over medium heat.
Add 1 tablespoon butter.
When butter has coated the pan add the generously seasoned chicken breasts and cook unsdisturbed for 2 minutes on each side until golden.
Transfer chicken to platter and keep warm.
Add avocado oil to pan and heat through.
Add shallots and cook until translucent.
Add wine and deglaze pan being sure to scrape up any bits from the bottom of the pan. Cook 2-3 minutes until reduced by half.
Add chicken broth and simmer a minute or two more.
Stir in thyme, tarragon and any juices from the chicken on the platter as well as the lemon juice. Cook 2-3 minutes more until starting to thicken.
Remove from heat and stir in unsalted butter, swirling until creamy and thick.
Plate chicken pieces over noodles.
Spoon sauce over top and garnish with chives.