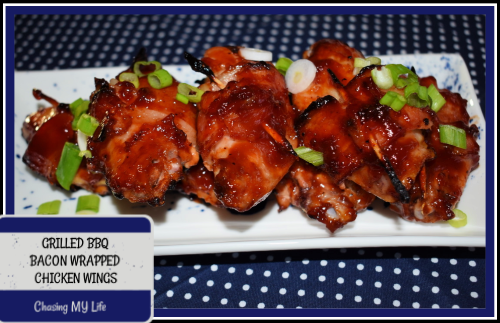 GRILLED BBQ BACON WRAPPED CHICKEN WINGS
3 dozen chicken drumettes
FRESH
ground sea salt and black pepper, to taste
36 slices bacon, cut down to 3/4 strips – save 1/4 ends for another dish or salad
1/2 cup favorite BBQ sauce (I use Sweet Baby Ray's Honey Chipotle)
3 tablespoons pineapple juice
36 toothpicks
Lime wedges for serving.
Soak toothpicks in pineapple juice for 20 minutes.
Prepare grill for indirect heat.
Pat chicken dry.
Season chicken with salt and pepper.
Wrap each piece with a bacon slice and secure with a soaked toothpick.
Oil grill grates.
Grill drumettes over direct heat 4-6 minutes until bacon is lightly browned. Turn frequently so as to brown evenly.
Move chicken to cold side of grill, cover and cook 20-25 minutes until chicken is cooked through.
Baste several times during last 5 minutes.
Serve with lime edges.