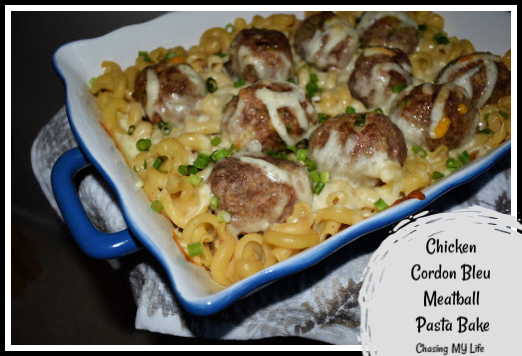 CHICKEN CORDON BLEU MEATBALL PASTA BAKE
serves 6-8 adapted from
Twisted Food
1 pound ground chicken
1 egg beaten
½ cup
FRESH
breadcrumbs
½ cup finely grated Parmesan cheese
2 tablespoons
FRESH
chopped parsley
2 green onions,
FINELY
minced
2 cloves garlic, minced
1 tablespoon avocado oil
FRESH
ground Salt and pepper
Cubed Tavern ham
Cubed swiss cheese
In a large bowl, mix together chicken, egg, breadcrumbs, Parmesan cheese, parsley, onions, garlic, salt and pepper.
Form into golf ball sized balls.
Flatten each ball on your palm and place one piece of ham and a cube of Swiss cheese.
Wrap and roll into a ball. Continue with rest of mix.
Heat oil in a nonstick pan over medium heat.
Pan fry meatballs until golden brown all around.
Remove and wipe out the pan.
2 tablespoons avocado oil
3 tablespoons butter
3 cloves garlic, minced
5 tablespoons WONDRA flour
2 cups chicken stock
1 cup heavy cream
1 teaspoon dijon mustard
12 ounces penne pasta, prepared
1 cup grated Cheddar cheese, divided
1 cup grated Swiss cheese, divided
1 cup grated Mozzarella, divided
Salt and pepper to taste
¼ cup pasta water
Chopped parsley
Preheat an oven to 350º.
Add the butter and let it melt, add garlic and cook for 30 seconds.
Sprinkle in the flour and cook for 1 minute.
Gradually whisk in the chicken stock until combined and smooth then pour in the cream.
Bring to a simmer and stir through the mustard.
Cover with a lid and let thicken slightly.
Season the sauce with salt and pepper.
Add the pasta, half of each cheese and the meatballs. Stir to coat.
Pour the pasta mix into a large casserole dish.
Bake for 10 minutes and then grill for 5 minutes.
Sprinkle with parsley and serve.