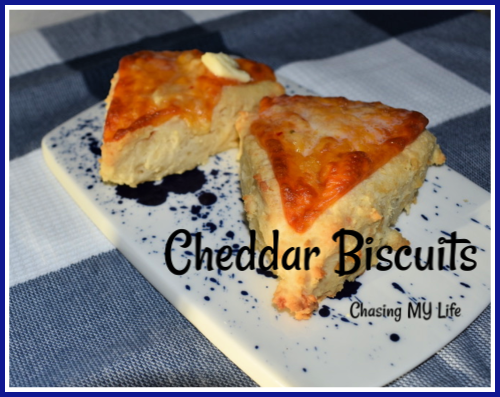 These biscuits are
SOOOOOOOO
simple
AND
SOOOOOOOO
flavorful too!
CHEDDAR BISCUITS
yields 8 biscuits
1 cup all purpose flour
1 cup bread flour
2 teaspoons sugar
2 teaspoons baking powder
1 teaspoon sea salt
1 cup grated extra sharp cheddar cheese
4 slices medium cheddar, halved diagonally
1 1/2 cups heavy cream
Preheat oven to 425°.
Spray baking sheet with non-stick cooking spray or use a silpat.
Whisk together the flours, sugar, baking powder and salt.
Add 3/4 cup of the cheese with the flour mixture, tossing to coat the cheese.
Add 1 1/4 cup of heavy cream, mixing well with a wooden spoon until dough forms.
Turn dough out onto greased wax paper.
Add remaining cream to bowl, collecting all the stray dry flour bits. Add to dough and knead together until smooth for 30 seconds. Form into an 8-inch circle.
Cut into 8 wedges.
Place wedges on baking sheet.
Bake for 8 minutes.
Add a slice of the medium cheddar to each wedge.
Sprinkle with remaining shredded cheese, rotate pan and return to oven for another 8 minutes.
NOTE:
These biscuits work with
ANY
flavor cheese you choose. I often make them with Pepper jack or Gruyere and often add a small amount of green chilies or chopped olives when the flavor calls for it.