Thank you Carrie for making me try this recipe. I had seen it on Pinterest and Facebook, but now I've gotten around to making it in reality. 😀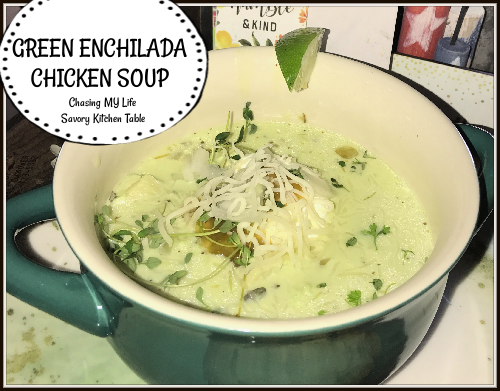 GREEN ENCHILADA CHICKEN SOUP
2 1/2 pounds boneless, skinless chicken breasts or thighs
1 recipe homemade green enchilada sauce (recipe below) or 1 (28 ounce) can green enchilada sauce
3 cups homemade chicken bone broth
1 cup half and half or heavy cream, depending on desired consistency
2 cups Monterey jack cheese or pepper jack cheese
4 ounces cream cheese, cubed at room temperature
4-8 ounces green salsa verde, to taste
FRESH ground salt and pepper, to taste
In a 6-quart slow cooker add chicken breast or thighs, green enchilada sauce, and chicken broth. Cook on LOW 6 to 8 hours.

Remove chicken and shred.

Add shredded chicken, jack cheese, cream cheese, half and half, and green salsa to slow cooker.

Turn slow cooker to warm and stir until cheeses are melted.

Add hot sauce or additional salsa to taste.

Top with lime wedges, avocado, cilantro, green onion, shredded cheese and sour cream or any other topping of your choice.

Serve and enjoy!
NOTE: you can short cut this recipe using chopped Costco chicken rotisserie pieces. They now come already picked in a large package. Using this chicken also makes it easy to cut the recipe in half or double it 😀
GREEN ENCHILADA SAUCE
Homemade Green Enchilada Sauce is a quick and simple homemade recipe for use in your TEX-MEX recipes.
1 recipe = 1 (28 ounce) can of store-bought green enchilada sauce

2 tablespoons avocado oil
1 cup chopped onion
2 garlic cloves, FINELY minced
1 cup UNDRAINED diced canned green chiles
2 cups homemade chicken bone broth
1 teaspoon cumin
1 teaspoon oregano
FRESH ground sea salt and black pepper, to taste
Optional to spice it up: 1 jalapeno pepper, diced
Heat oil in a skillet over medium high heat.

Saute onion until soft.

Add garlic and cook for 1 minute.

Reduce heat to medium.

Add green chiles, broth, cumin, oregano, salt, pepper, and jalapeno if using.

Simmer, uncovered, for 15 minutes until the liquid is reduced to about 3 cups, by about 25%.

Use an immersion blender to blend ingredients to your desired consistency.

Transfer back to your skillet.

If the sauce is for later use, let it cool, then store it in an airtight container for storage in your refrigerator or freezer. I use a canning jar with an airtight lid.