We're trying a new butcher delivery service, Butcher Box, since good cuts of meat are getting harder to find around here. Even my go to butcher just isn't what it used to be 🙁
The "RANCH" steak sounded interesting so we added a couple to our order and were pleasantly surprised. Here's their recipe with very few adjustments.
Just a bit of trvia – The ranch steak is one of the most flavorful and tasty cuts of meat and is very underrated, with many butchers and beef buffs claiming it makes a great alternative to the more expensive cuts such as Sirloin Tip or Flat Iron steak.
It comes from the shoulder area of the cow and is somtimes referred to as an arm steak. Because the muscle is worked a little more it can lack the tenderness of some other cuts. But what it lacks in ease of eating compared to others, it makes up for in its full beefy flavor.
In order to earn the moniker of 'Ranch' steak, it needs to be trimmed of all excess fat, silver skin, and connective tissue so that it's very lean. It must also be free of the strip of gristle running through the middle.
CONCLUSION: The flavor was excellent! BUT, the leftovers have been cut up to use the next time I make chili. The steak just wasn't tender enough for us, but will make excellent chili parts.
I also LOVED the flavor profile of the carrots, but didn't want to mess with the oven and the grill so I microwaved the carrots for 5 minutes to cook the centers and then tossed them with everything finishing them off on the grill along side of the steaks. I also minced the thyme leaves directly into the marinade.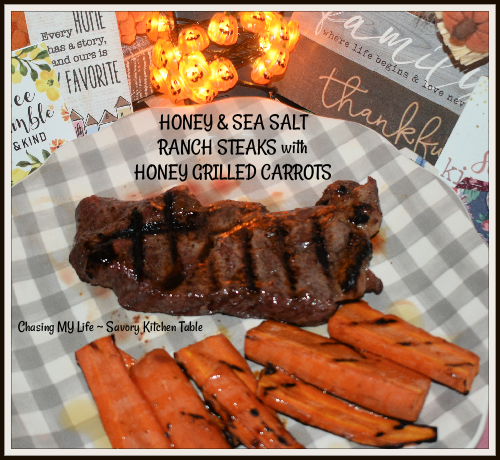 HONEY & SEA SALT RANCH STEAKS
Prep Time: 15 minutes
Cook Time: 45 minutes
Total Time: 1 hour
4 each Ranch Steaks
8 tablespoons QUALITY honey
1 tablespoon coarse sea salt (I added a touch of garlic salt also)
1 teaspoon freshly ground black pepper
Preheat grill with 2 zones. One high heat and one low heat.

Rub steaks with honey, sea salt and black pepper. Set aside and bring to room temperature.

Place steaks on hottest part of grill and cook for 4 minutes on one side with a quarter turn after 2 minutes.


Flip steaks over, grill for 2 more minutes on the hottest part.

Move steaks to the cooler side of the grill and continue to cook until internal temperature reaches 110℉.

Remove steaks from heat when finished and let rest 8-10 minutes before slicing steaks against the grain and serving with roasted carrots.

Enjoy!
ROASTED CARROTS
12 each carrots, washed and cut into ½" pieces
4 sprigs fresh thyme
3 cloves garlic minced
1 each orange, zested
1 teaspoon ground coriander
1 tablespoon raw honey
2 tablespoons avocado oil
FRESH ground sea salt and black pepper, to taste
Preheat oven to 350°.

Toss cut carrots with all ingredients in a mixing bowl.

Place seasoned carrots on baking sheet in a single layer and roast in oven for 40 minutes, or until for tender.

Discard thyme sprigs before serving.