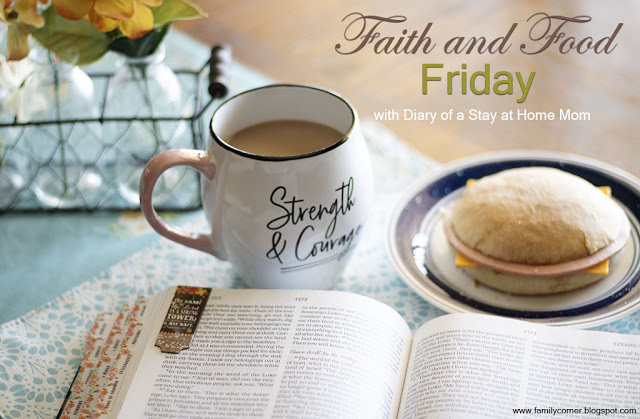 I'm still featuring my Mary & Martha GRACE meal prayer box on Faith and Food Friday, hosted by Sandra at Diary of a Stay at Home Mom.

THIS WEEK'S PRAYER: Thank you, God, for today I had fun when I (fill in the blank). Thank you for the (fill in the blank) food. thanks you for (fill in the blank). Please help me (fill in the blank). Thank You that You love me SOOOOO much! Amen.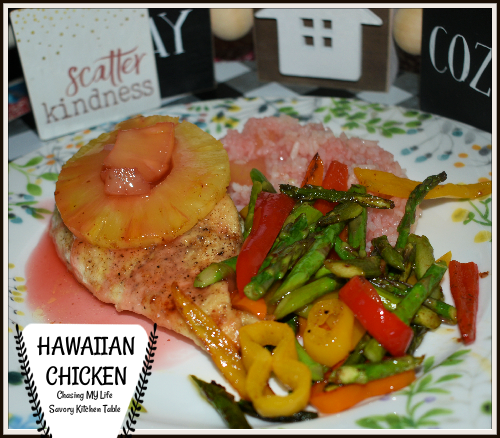 HAWAIIAN CHICKEN
1 LARGE can sliced pineapple
1/2 cup sugar
2 tablespoons cornstarch
3/4 cup apple cider vinegar
1 tablespoon Bragg's liquid aminos
1 teaspoon ground ginger
1 chicken bouillon cube
1 drop red food coloring (optional)
FRESH ground sea salt and black pepper
several red, yellow and orange mini peppers, sliced
Asparagus spears, sliced on the diagonal
1/3 cup flour
4 boneless, skinless chicken breasts
2 tablespoons butter
Jasmine rice, prepared
Preheat oven to 350°.

Drain pineapple, reserving juice and adding enough water to make 1 1/4 cups of liquid.

In a medium sauce pan whisk together the pineapple juice mixture, sugar, cornstarch vinegar, liquid aminos, ginger and bouillon cube.

Bring to a boil over medium high heat. Boil 2 minutes, whisking constantly.

Reduce heat to low and stir occasionally.

Heat butter in large skillet over medium-high heat.

Generously season the chicken breasts with FRESH ground sea salt and black pepper.

Dredge chicken in flour and shake off excess.

Sear chicken breasts on each side 3-4 minutes until JUST cooked through. Keep warm in oven.

Add pineapple rings and asparagus tips, peppers to skillet and saute until cooked through.

Plate chicken, peppers, pineapple rings and rice.

Ladle sauce over top and serve immediately.