This recipe is SOOOOOOO versatile. You can add tons of flavor if you use a rotisserie chicken by choosing an Italian herb or lemon or BBQ, etc… My favorite grocery store carries rostisserie chickens by "parts" in a mesquite flavor that I REALLY like in this recipe. By "parts" I mean you can get all white meat or my favorite all dark. It takes about 4 thighs and legs to make the chicken pieces for this casserole.
You can also change up your soup flavor cream of mushroom, cream of onion, cream of poblano or jalapeno, etc… You get the idea. I also "adjust" the vegetables to what I have on hand. Sometimes I add green beans or mushrooms or snap peas, etc… just until I have an even mixture of a nice protein to vegetable ratio that is still creamy.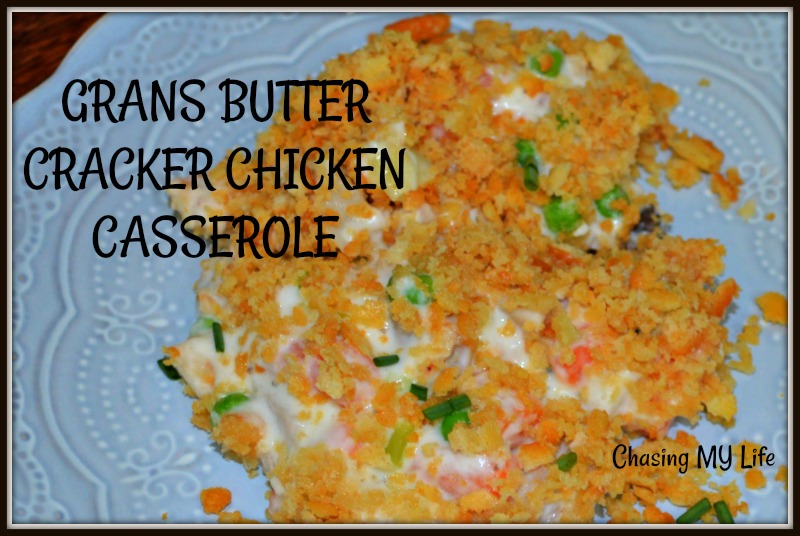 GRANS BUTTER CRACKER CHICKEN CASSEROLE serves 4-6
3 boneless, skinless chicken breasts, cooked and shredded or chopped**
1 can cream of chicken soup
1 cup sour cream
1 cup frozen peas
1 tablespoon butter
1 tablespoon avocado oil
2 large carrots, thinly sliced
2 green onions, thinly sliced
6 ounces (2 sleeves) Ritz*** crackers, crushed into fine crumbs
4-6 tablespoons butter, melted
1/2 teaspoon paprika
Preheat oven to 350°.
Spray a 9×13 baking dish with non-stick cooking spray.
In a large bowl stir together the soup, sour cream and chicken.
Fold in peas and set aside.
In a hot skillet add 1 tablespoon of butter and avocado oil.
When melted add carrots, sautéing 3-5 minutes until beginning to soften.
Add green onions and saute' a minute more.
Fold carrots and onions into chicken mixture.
Pour into prepared baking dish.
In a small bowl combine the melted butter, crushed crackers and paprika until the mixture looks like wet sand. Start with 4 tablespoons of butter and add more as necessary.
Spoon over casserole evenly.
Bake 25-30 minutes or until golden and bubbly.
Serve warm.
ENJOY!
NOTES
**

You can easily substitute 3 cups of rotisserie chicken and quite honestly these days that is my preferred way to make this recipe.

***

You can also use Kebbler Garlic butter crackers, Ritz are the preferred cracker.
This recipe freezes well also so I often make extra in these small foil bakers for easy weeknight prep.