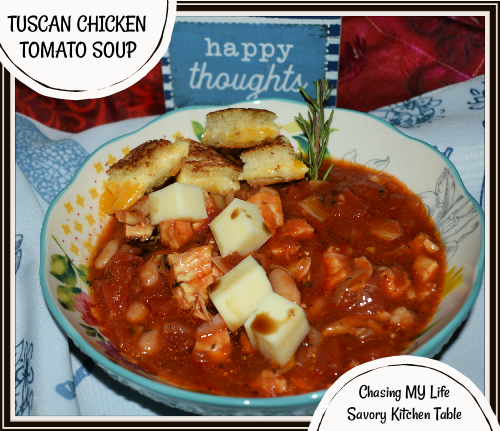 TUSCAN CHICKEN TOMATO SOUP serves 6
8 thick slices sourdough bread
2 tablespoons avocado oil, plus more for toasting bread
Salad Supreme garlic bread sprinkle
2 tablespoons salted butter OR 2 seasoned butter cubes (see notes)
3 boneless, skinless chicken thighs, diced OR 2 cups diced rotisserie chicken pieces
1 LARGE shallot, diced
2-3 cloves garlic, minced
2 tablespoons QUALITY tomato paste (I use Classico sun dried tomato pesto)
14-ounce can QUALITY diced tomatoes
14-ounce can QUALITY tomato puree
2 cups low-sodium chicken broth
One 15-ounce can cannellini beans, drained and rinsed
1 to 2 tablespoons honey
2 teaspoons chopped fresh oregano, plus whole sprigs, for garnish
FRESH ground sea salt and black pepper
One SMALL 6.52-ounce jar marinated artichoke hearts, drained
Mini QUALITY Mozzarella balls
Preheat the oven to 425°.

Lightly coat the bread with oil on both sides and place on a baking sheet. Bake until toasted and browned, about 10 minutes.

Heat the butter and oil in a soup pot over a medium-high heat. When the butter has melted and the oil is hot, add the chicken (if you're using the raw thighs otherwise rotisserie chicken pieces are added later), onion and garlic and cook until the onion starts to brown and the chicken is almost cooked through, about 5 minutes.

Add the tomato paste and stir until everything is well coated.

Add the canned tomatoes, tomato puree, chicken broth, beans, honey and oregano.

Add in rotisserie chicken pieces, if using.

Season to taste with FRESH ground sea salt and black pepper, stirring well and bringing to a simmer for 10 minutes or so until flavors are well blended.

Add the marinated artichoke hearts to the soup and stir to combine.

Tear the toasted bread into large chunks and place in the bottom of soup bowls OR use grilled cheese croutons for an extra yummy plus.

Ladle the soup over the bread.

Top each bowl with several mini Mozzarella cheese balls, chopped oregano and a drizzle of balsamic glaze.
NOTES: When I buy FRESH herbs (thyme, tarragon, oregano, basil…), I chop them up and make butter cubes in my lidded silicone trays to freeze and have on hand for recipes just like this. It adds another layer of flavor.