This recipe is
soooo
simple because I use a Costco rotisserie chicken, but the flavor tastes like you spent all day roasting it yourself –
NO ONE
will ever know the difference!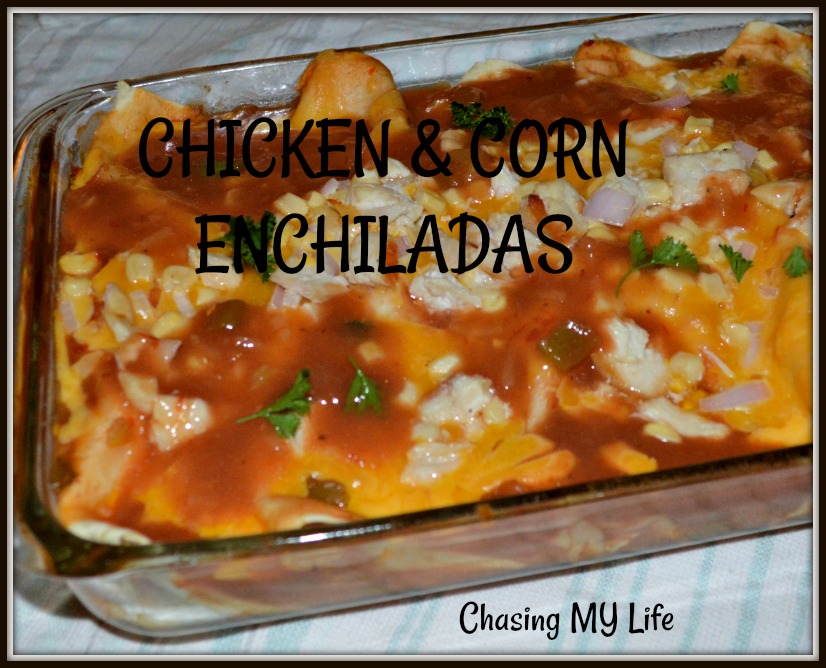 CHICKEN & CORN ENCHILADAS SUIZA
3 cups shredded chicken pieces (I use Costco rotisserie)
1 large red onion, diced
2 cans Green Giant white shoe peg corn, drained
3/4 cup sour cream
1/2 cup chopped
FRESH
cilantro
1 teaspoon ground cumin
2 cups grated Monterey Jack and Sharp Cheddar mix
3 cups chunky salsa
1 large green enchilada sauce
FRESH
ground salt and pepper, to taste
corn tortillas (about 16)
Preheat oven to 350°.
Spray a large baking dish with non-stick cooking spray.
Mix together the chicken pieces, diced onion, corn kernels, sour cream, cumin and cilantro until well blended.
Add half of the cheese.
Season with additional FRESH ground salt and pepper to taste.
In a separate bowl mix together the salsa and enchilada sauce.
Brush each tortilla with some of the sauce mixture and fill with 1/4-1/3 cup of chicken mixture.
Roll up and place seam side down in baking dish.
Repeat until chicken mixture is gone – about 16-18 tortillas.
Spoon most of the remaining sauce evenly over top of enchiladas. Save just a lilttle to spoon over again when you remove the foil.
Sprinkle with remaining cheese.
Cover in foil.
Bake until heated through, about 30 minutes.
Uncover and spoon remaining sauce over top.
Bake 5 minutes more to brown cheese.
ENJOY!