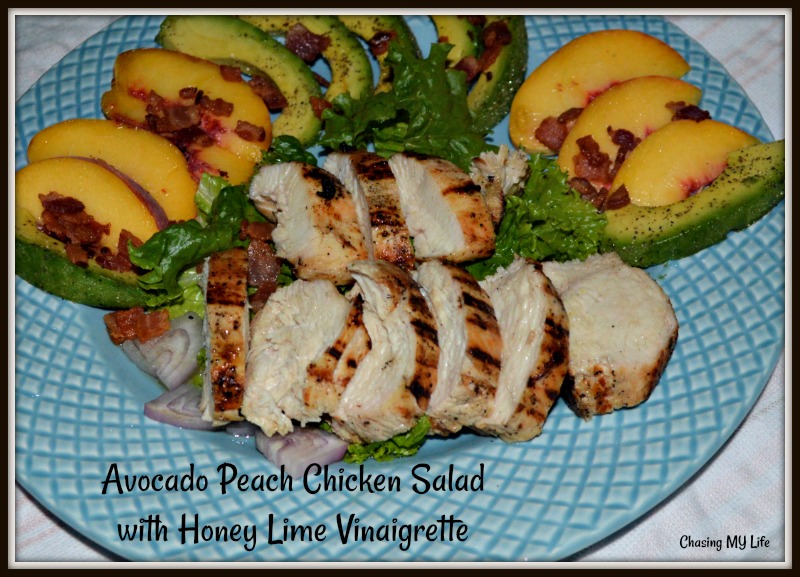 AVOCADO PEACH CHICKEN SALAD with HONEY LIME VINAIGRETTE
SALAD
2 boneless, skinless chicken breasts, grilled to perfection and sliced 😀
1 large peach, washed and sliced
1 large RIPE avocado, sliced
1 bunch green onions or 1 large shallot, sliced thin
4 strips bacon, diced, browned andcrisp
3 cups torn romaine or watercress lettuce
Arrange ingredients on plate.
Drizzle with vinaigrette.
HONEY LIME VINAIGRETTE
1/4 cup avocado oil
1/4 cup QUALITY balsamic vinegar
1 tablespoon molasses
Juice of 1 Lime
1 tablespoon QUALITY honey
Pinch FRESH ground sea salt
Add ingredients into a glass container or jar with a lid.
Shake jar vigorously until completely combined.
Serve on your favorite salad.
Store in the refrigerator.
NOTES: When using cold from the refrigerator make sure you shake it up REALLY well to re-blend the ingredients. I usually run my jar under warm water before giving it a good shake and if that doesn't mix it enough a few seconds in the microwave should thin it enough to make mixable!